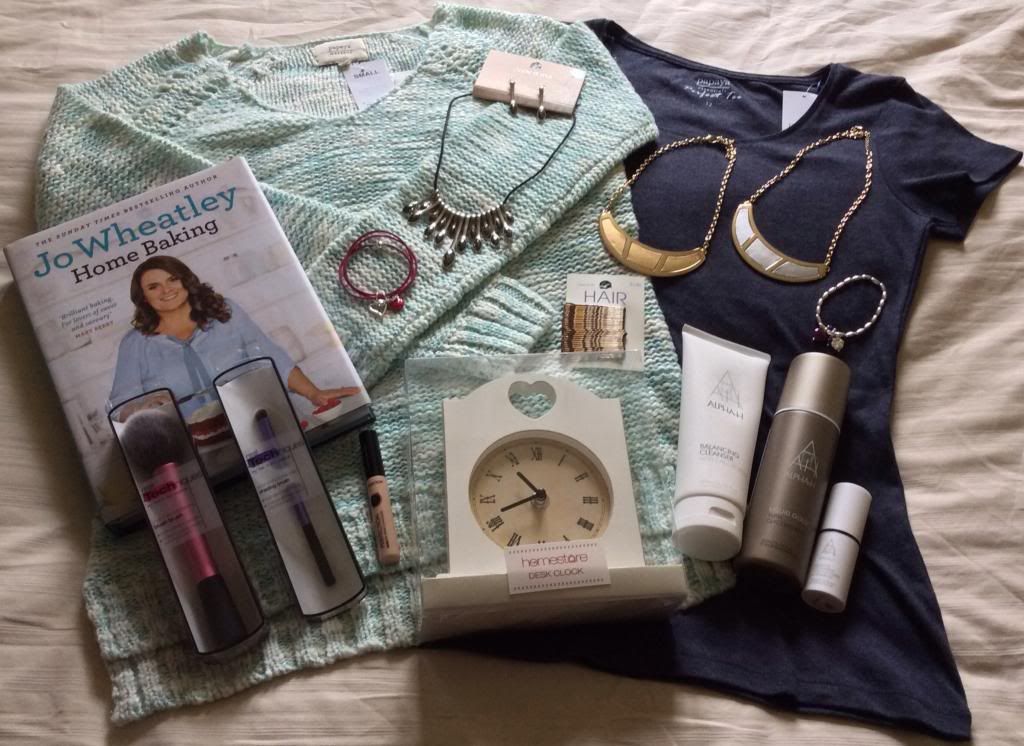 Hello,
I did a little shopping this past week so I thought I'd share my purchases with you because I love reading "haul" posts.
First up - Beauty.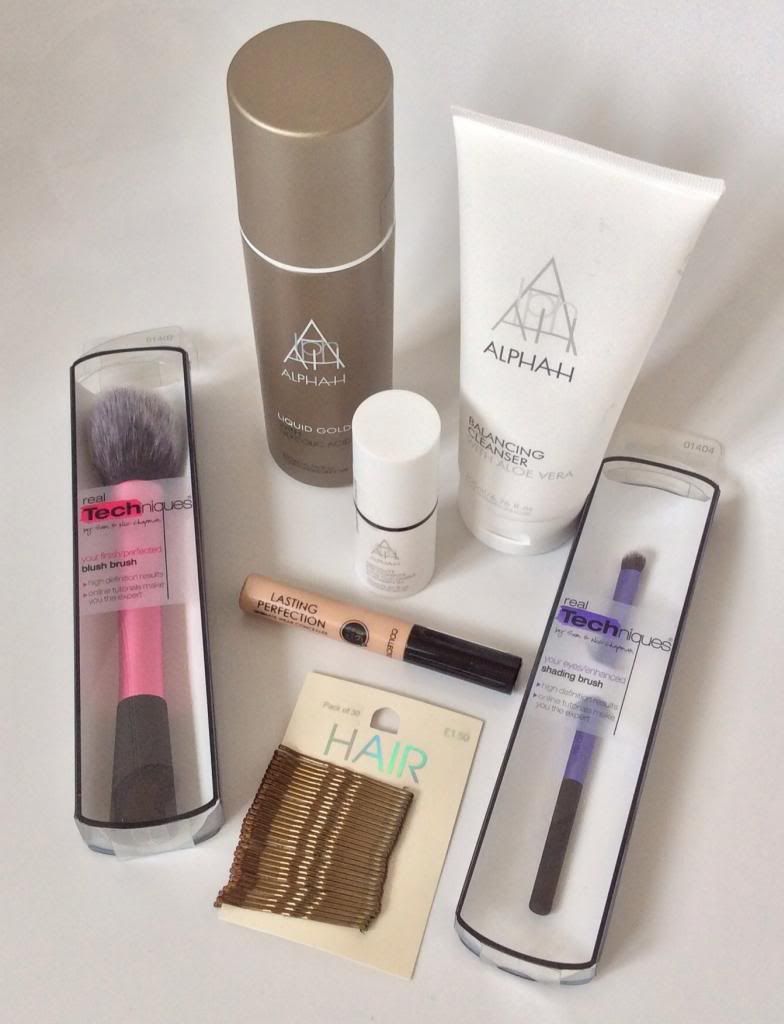 I succumbed to the recent Alpha H TSV from QVC. It was a good deal, the whole set cost less than a bottle of Liquid Gold so it was a no brainer really. I already use the Liquid Gold and occasionally the cleanser but the Alpha H Eye Complex is new to me so I am looking forward to trying that out. I am planning on doing a 30 day trial with it and will write a blog post about it later this month. I can't post a link to the TSV because it has now sold out.
I also purchased 2 more Real Techniques brushes - a blush brush and a shading brush from Amazon. I was lucky enough to receive the Core Collection and Starter Kit for Christmas and I'm really happy with them so decided to add a couple more brushes to my collection.
Finally on the beauty front, a couple of little purchases - hair grips/bobby pins from Matalan
and a Collection Lasting Perfection concealer from Morrisons. I was really happy with the
latter because it went through the till at £2.09 - bargain! I only use this for blemishes as it is too drying for under my eyes.
Next up - Clothes.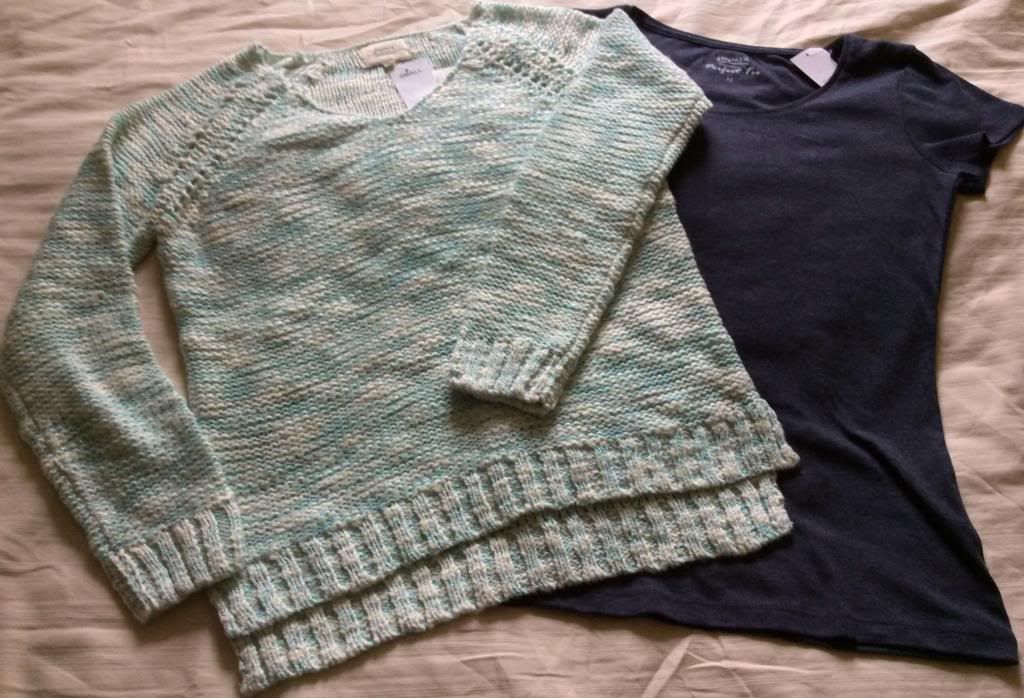 My mum came over for the day so we decided to have a look round the shops. We hadn't been to Matalan in years so decided to take a look. Neither of us were expecting much but I picked up a mint green slouch jumper for £14. I don't have anything in my wardrobe in this colour and I love it, it's perfect for Spring. It's a cotton mix so quite a light jumper and it has a metallic thread running through it which I like.
The best news is, I fit in a size small!! Don't worry, I'm not deluded, I know with cheaper clothes the sizes are very hit and miss. I also picked up a simple T shirt in a denim blue colour for £3.
Now onto Jewellery.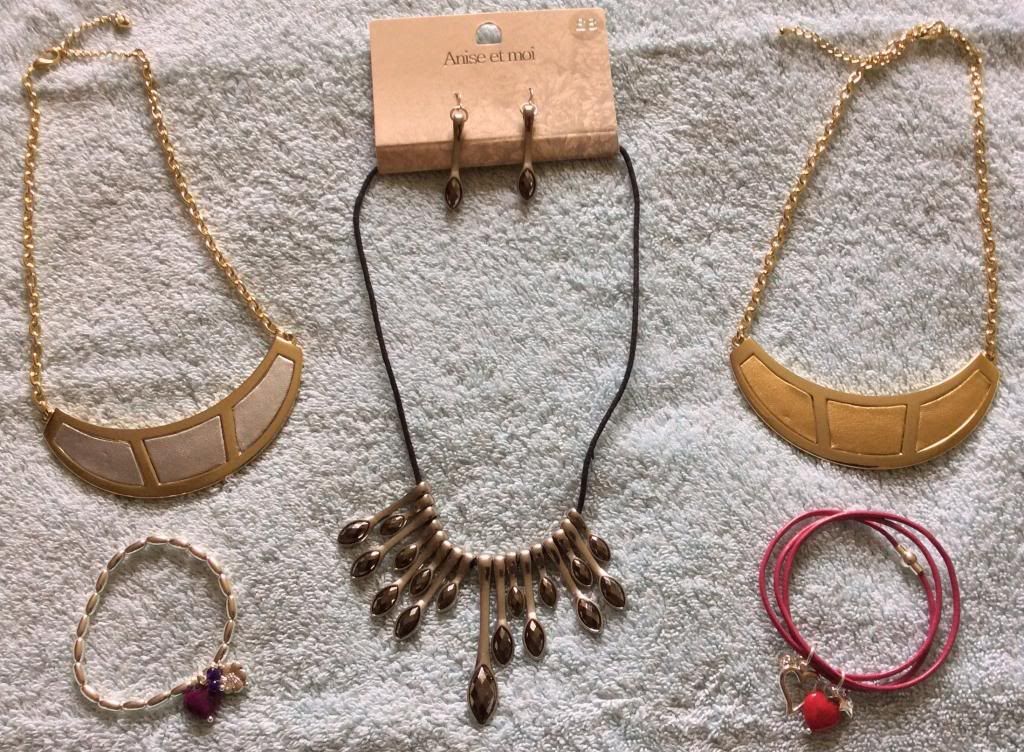 Whilst in Matalan, a lovely necklace and earring set caught my eye. It was priced at £8 which I was happy with, but it went through the till at £3, another bargain. It looks gold toned in the photo, but I think that is the reflection from the other pieces because it is actually silver toned.
I also bought a few bits in the Lisa Angel sale. Two bold necklaces, one with gold leather effect panels and the other with silver. I couldn't
choose which
colour to have but because
they
were only £3 each I decided on both! I was a tad disappointed that the leather effect on the gold one has got marked in transit but it's not a huge deal.
I also ordered two bracelets. One is a bright pink corded affair with a heart and a couple of other little charms on it for £2.50. I do like it but think it might be a little "young" for me. What do you think? The other bracelet is silver in colour with a purple heart charm (I'm a sucker for anything with a heart!) I didn't realise that the silver beads were plastic so it reminds me of those elasticated bracelets I wore as a little girl. I can't see me ever wearing this but at £3 it is not a huge loss.
Finally, a couple of other miscellaneous things.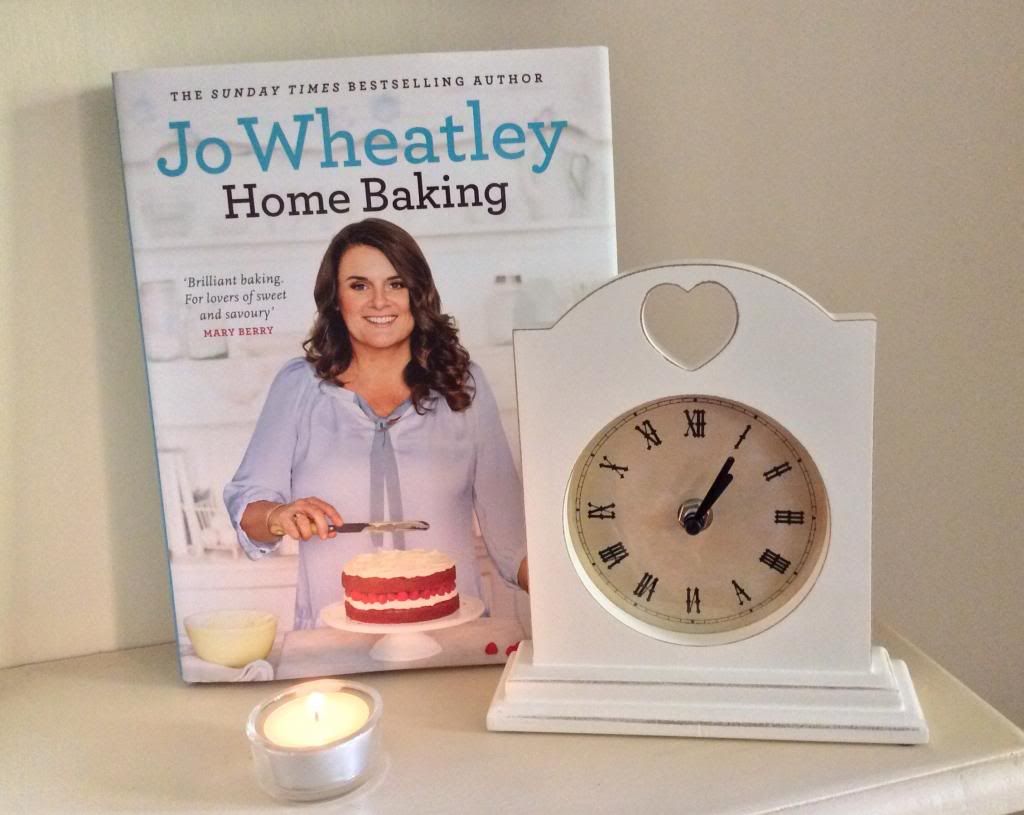 I saw this little clock in Matalan and because it was only a fiver and it had a heart in it, I couldn't resist! It's nothing exciting but fits well into the dining area of my kitchen on the
mantelpiece. I live in an old cottage so I was into "shabby chic" way before it became popular, although my home is probably more shabby than chic! The last item I bought was Jo Wheatley's Home Baking book. Jo won The Great British Bake Off a couple of years ago. I love baking so when I saw this was just £2.50 from Sainsbury's entertainment I
couldn't resist.
Well, that's everything I have bought recently. I hope you haven't found it too boring and frumpy but my days of wearing spaghetti strap tops and short skirts are long gone and comfort is the order of the day for me now (although I'm not quite ready for thermal underwear or crimplene skirts just yet!).
What are your recent purchases? Please leave me a comment below.
Thanks for reading.
Enjoy the rest of your day.
Take care,
CJ xx