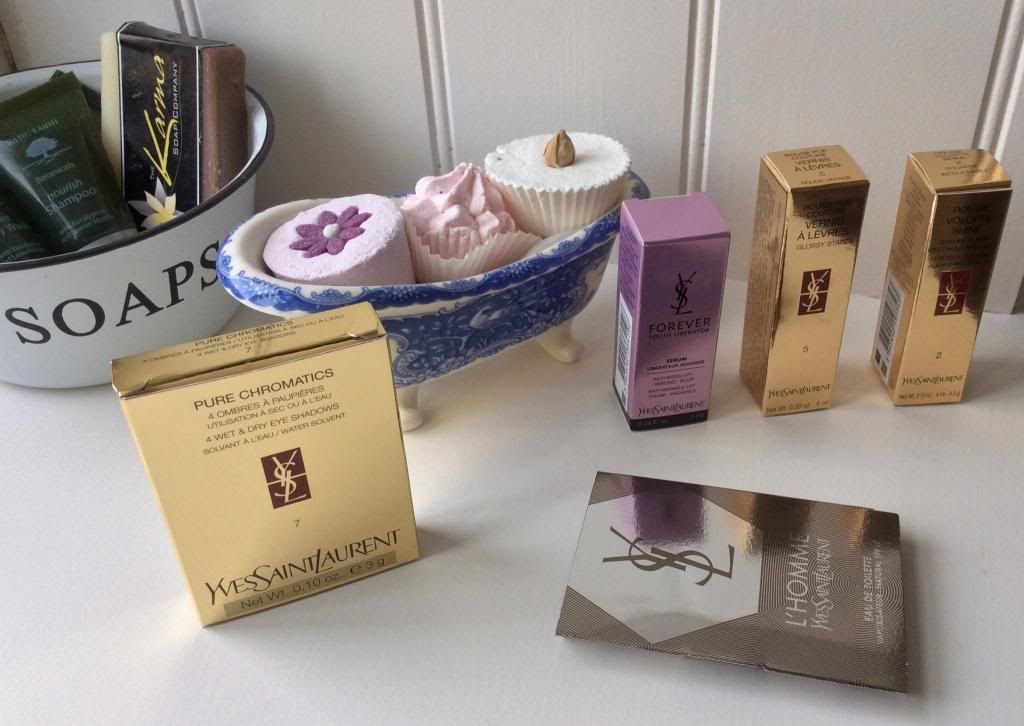 I have lusted after YSL make up for a long time, and last weekend I finally succumbed!
My best friend told me to choose a lipstick from the YSL range for my birthday because they knew I really wanted one, so last Saturday I took a trip to town to the larger Boots to choose a colour. I told the YSL assistant that I wanted a lipstick from the Rouge Volupte Shine range because I loved the packaging and I also told her that I wanted a pinky shade not dissimilar to my natural lip colour. I wanted a shade that I would be able to wear lots. I also told her that I didn't have much time because my hubby was waiting. She picked out quite a pale pink shade but I thought perhaps it looked darker on the lip than in the bullet. She applied it to my lips (and also on my chin?!) with a lip brush and she made a right mess of it. It was way too light for me. She then chose a deeper red shade, but this time I chose to apply it myself. This time it was too dark. Then another customer came and she started serving her! To be honest I felt this was quite rude, especially because I had already stated I
had limited time. Do you think this was rude, or was I overreacting? Anyway, I continued to
look at the
lipsticks on my own because she seemed totally uninterested. In the end I walked away feeling totally deflated and disappointed by my experience.
That said, I still lusted after the YSL lipstick, so that evening I looked on the YSL Website. I feel that the colour swatches on their website are incredibly poor so I decided to choose a colour with the help of swatches on beauty blogs and You Tube! I eventually settled on Pourpre Intouchable (number 2) which is a plum colour, slighter darker than I wanted initially but lovely nonetheless.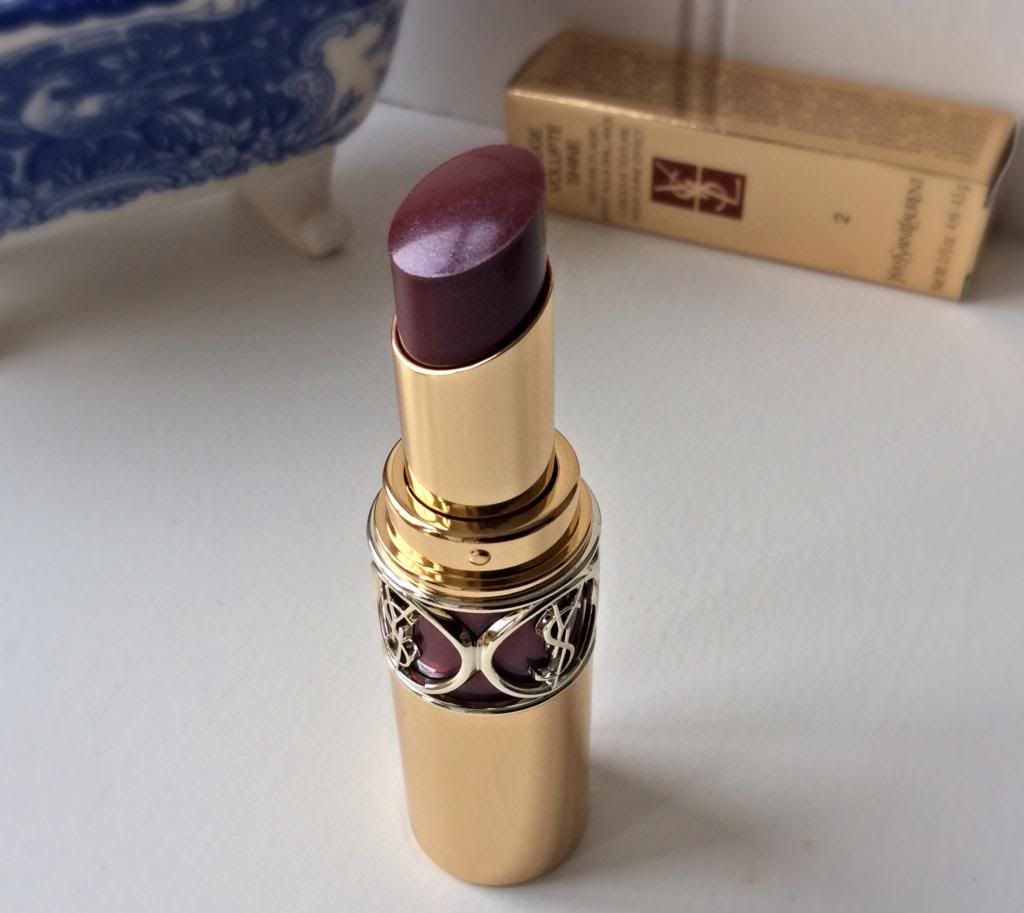 Whilst browsing their website, I saw that they had a Mother's Day offer of an eyeshadow quad (worth £39) for just £5 when you spent £50. I didn't need much persuading! After perusing some more beauty blogs and You Tube videos I decided on a lip stain gloss, Rouge Pur Couture Vernis à Lèvres, in Rouge Vintage (number 5). Just the colour I wanted,
perfect!
For me, the eye shadow quad (number 7), has 3 wearable shades, the gold shade I'm not too sure about, but I may change my mind once I've experimented with it.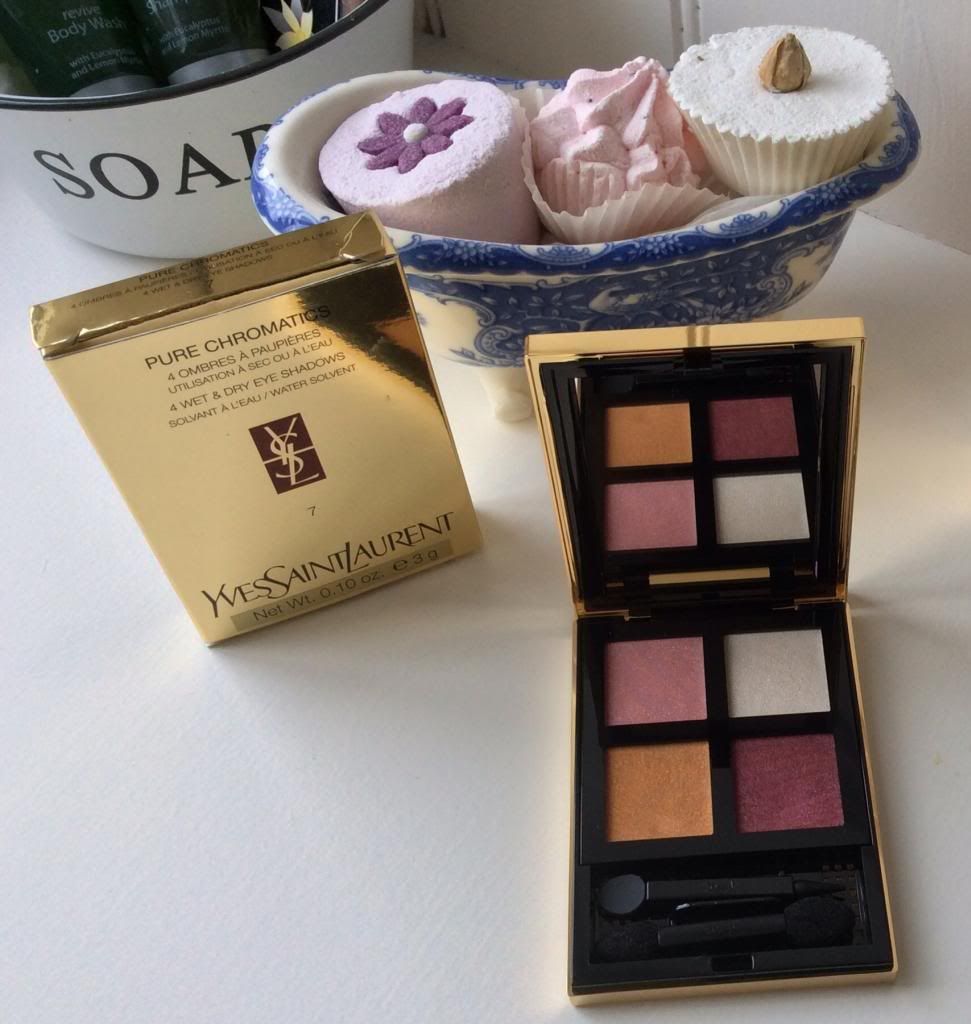 I shall do a full review, including swatches, of all 3 products soon, but I wanted to get this blog post written in case anyone is interested in purchasing the quad for just £5. I'm not sure when this offer ends, but Mother's Day is March 30th in the UK, so I am guessing it is prior to that.
Delivery is free at the moment in the UK and I ordered on Saturday night and it was delivered by DHL on Thursday (signed for). I also received 2 free samples - a vial of L'Homme Eau de toilette, which I shall give to my other half, and a 7ml sample of YSL Forever Youth Liberator serum.
I was so unhappy with the YSL sales assistant, but in the end she did me a favour because I now have 3 lovely new products for £50.
Once I've had a play with my new things, I shall report back.
I bought all these products with my own money, except for the lipstick which was a birthday present from my wonderful best friend. Love you lots!
Have you bought any YSL products? Do you have any recommendations?
I'd love to read your thoughts.
Enjoy the rest of your day.