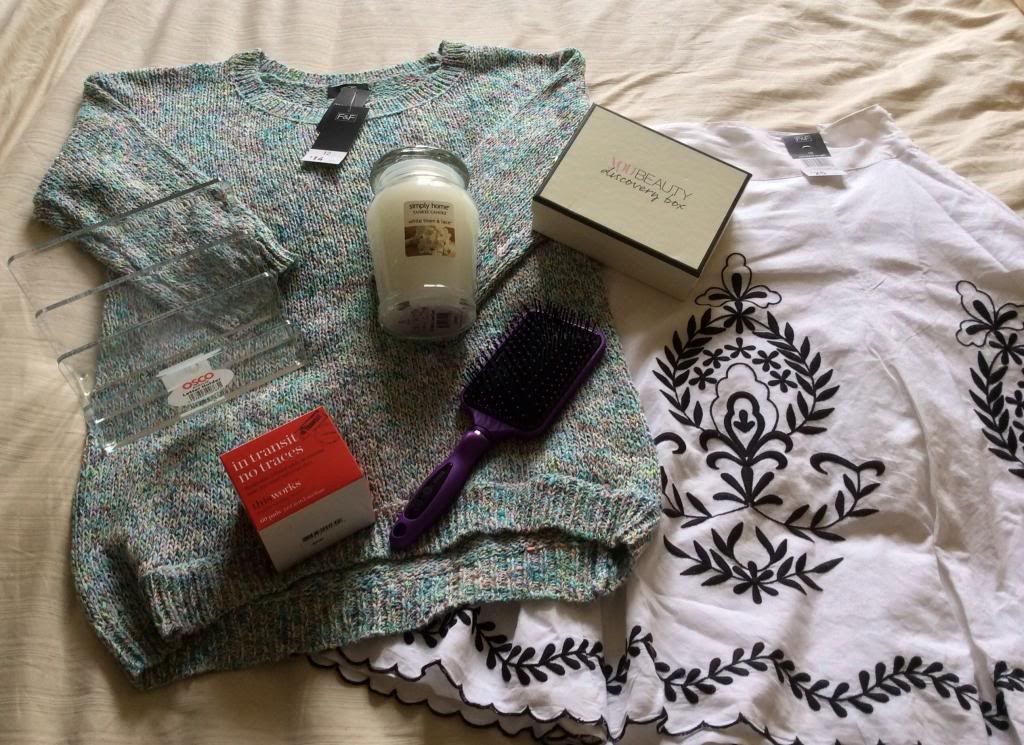 I bought a few things this week so I thought I would share them with you. I didn't buy much so it's not really a "haul", but here are my most recent purchases.
Firstly, clothes...
I received an email from Tesco advising me they had a Florence and Fred online sale. Now I'm sure you all already know that F&F are the clothing brand for Tesco. Our local Tesco is very small and their range of clothing is pretty poor so I have never bought any of their clothes. Anyway, I took a look online and saw quite a few things I liked, so placed an order. I got them delivered to my local store the next day. Unfortunately, I returned most of the items because they didn't suit, but I did keep the items above (plus a couple of tops for my sons). The
Twist Yarn Jumper
was reduced to just £9 which I thought was a good price. Although the website states it is green, I'd say it is more of a turquoise colour. It is a cotton mix and very soft. I think I shall get a lot of wear out of it this Spring. The other item I kept was an Embroidered Skirt. I thought for £12 it was an absolute bargain. It is white with a black embroidered detail and a scalloped hem. I think this will be a skirt I wear time and
time
again over the summer. It is an A line shape, which seems to suit my pear shaped
figure.
I
think this comes up on the large size because I fit in a size 10 which I definitely am
not,
although I do have a smallish waist I suppose. Apologies that it is so creased in the
picture, I really should have ironed it but because I will be putting it away until the warmer
weather, there seemed little point!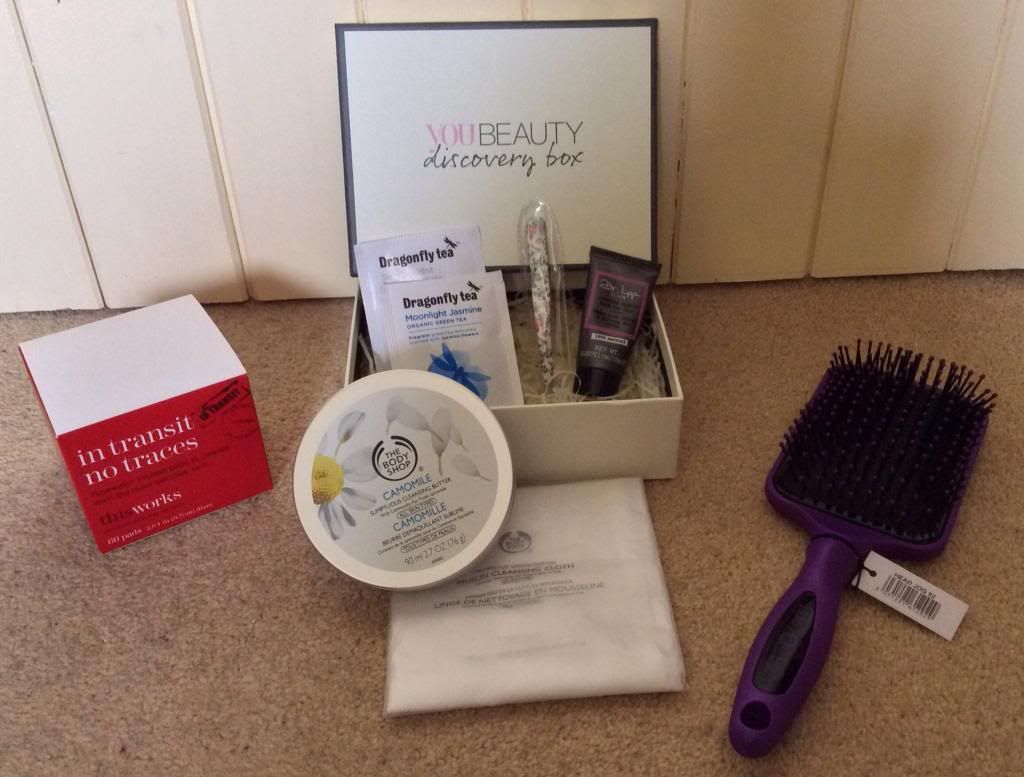 One of my biggest downfalls, regarding spending, is reading other beauty blogs and their recommendations. I was reading ReallyRee's blog at the end of last month and she did a glowing review for This Works In Transit No Traces cleansing pads. I try not to use cleansing wipes very often on my face but there are occasions when I use them such as when I am ill, a very late night or on the VERY rare occasion that I really cannot be
bothered! Previously I used Boots wipes or (cover your eyes please...) baby wipes. Argh,
yes I know, slapped wrist. Anyway, at the time of reading Really Ree's blog post, I saw that Beauty Bay had a 15% off sale, making the
This Works Cleansing Pads
just £12.86 instead of £15.13. I also popped a Head Jog Paddle Brush into my basket. I really liked the ladybird design but I felt I was 35 years too old for that, so opted for purple instead! I've not used the cleansing pads yet, but shall report back when I do, but I love my new paddle brush.
Last week, I also subscribed to my first ever You Beauty Discovery Box. Now I have contemplated subscribing to a beauty box for some time, but I have always been put off by not knowing what I'd be receiving. Some people love the element of surprise, but not me. I like the idea of the You Beauty box because you select 2 items that you wish to receive and then you also get a few extras too. At £6.95 per month I also think it is a great price and you
are not tied into a subscription so can cancel at any time. For the March box I chose a Body Shop Camomile Sumptuous Cleansing Butter which usually has a RRP of £12 and this
came with a muslin cloth. I've not used this before but my Mum raves about it so I'm looking
forward to trying it. The other item I chose was the
Dr. Lipp Nipple Balm
which retails around £11. So for £6.95 I received £23 worth of products plus some "extras" - tweezers which I love as they are vintage looking, plus some organic tea bags. Will have to research if they are caffeine free because I don't have caffeine any more. I am really pleased with my first box and I hope the choices next month are just as good.
This week, I also purchased a Revitalash and Revitabrow Advanced kit (not pictured) from QVC and have written a separate post on them here.
Finally, a few items for the home...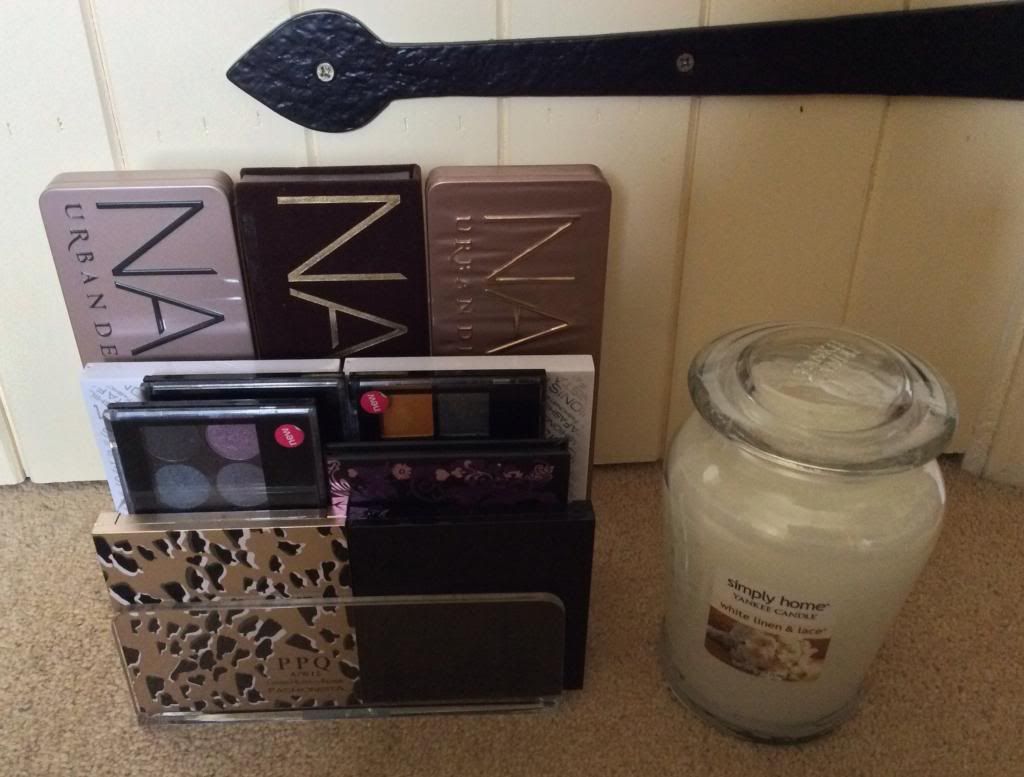 I have been after somewhere to store my eye shadow palettes for some time. I have been storing them in my Muji drawers but I found that, because they weren't right to hand, I tended to use the same palette day in, day out. I didn't want to pile them on top of each other so when I saw this Acrylic Letter Holder for just £6.99 I thought it was ideal. I measured it and it fitted perfectly on top of my Muji drawers. I don't have many palettes so this is just the right size and now they are all to hand, I am finding I am using a different one
each time.
Lastly, one of my guilty pleasures - scented candles. I wasn't intending on buying a candle but on the last day of February I realised I had £8 worth of Tesco Clubcard vouchers that were due to expire that day so I needed to spend them and spend them quickly! I didn't fancy driving to my nearest Tesco so took a look online at Tesco Direct and found this lovely Yankee Candle Medium in White Linen and Lace for £9 which I had delivered to store the next day. It has a lovely clean, crisp fragrance, although I've yet to light it.
Do you like scented candles? Which is your favourite brand and fragrance?
Enjoy the rest of your day.
**all items were purchased with my own money and any clickable links are not affiliate links so I do not receive any rewards should you click on them.