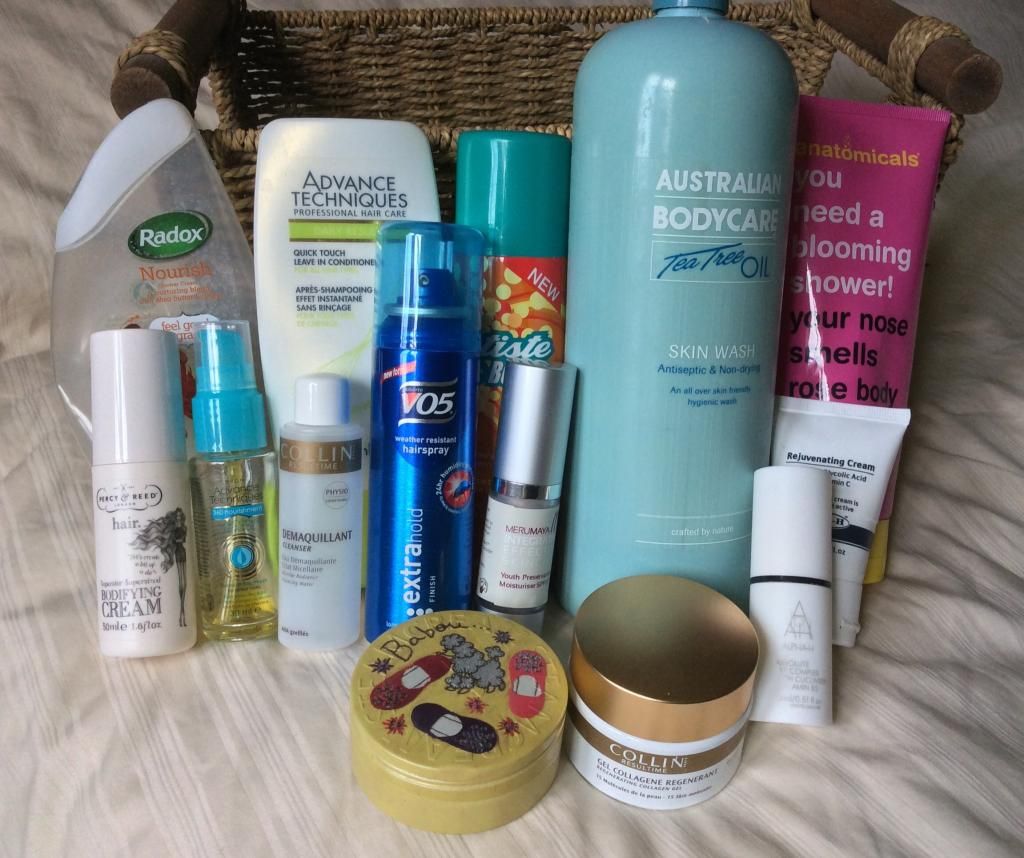 It doesn't seem 2 minutes since I was writing my May empties post and here we are again already with my June empties. I've been making a concerted effort to use up products that I've had on the go for far too long so there are quite a few products again this month.

I'll start with face skincare items: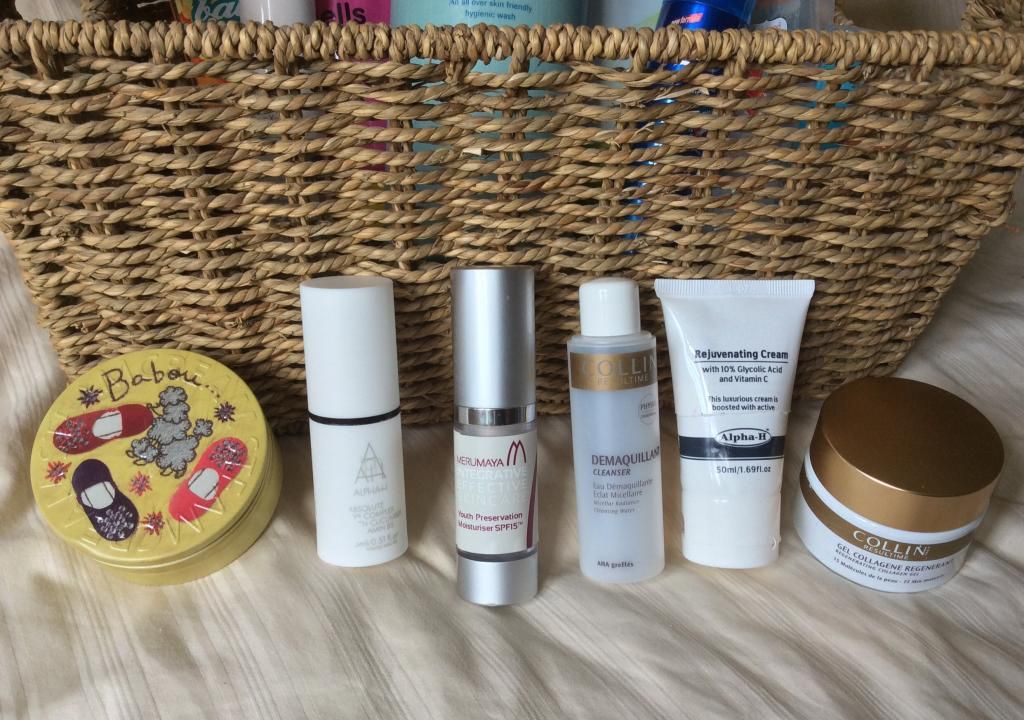 Collin Resultime Micellar Radiance Cleansing Water 50ml (RRP £5)
Would I repurchase?
No.
This was the first time I had used micellar water and it was a gift with purchase.
I did like using it but it is expensive, the full size is £19.50. I cannot justify spending that sort of money on a water that I essentially wash off with cleansing balm. I have since bought the much cheaper Garnier brand and I can't see much difference between the two.
Alpha-H Absolute Eye Complex 15ml (RRP £34.50)
Would I repurchase?

No.
For my 60 day trial, results and full review see my post here.
Alpha-H Rejuvenating Cream
Would I repurchase?

Discontinued.
I've had this moisturiser for a long time and I tended to use it
when I had breakouts because this seemed to help clear them. It did make my skin tingle which I wasn't keen on but it did the job so it's a shame it has been discontinued.
Collin Resultime Regenerating Collagen Gel 50ml (RRP £47)
Would I repurchase?

Yes, and I already have.
I love, love, love this! Yes, it is expensive but it is divine! It smells wonderful, a sort of light
floral smell but not at all over powering. My skin feels wonderful when I use this. I use it
every morning, like a serum, before my moisturiser. I also use it at night and sometimes
apply it thickly and leave on my skin as an overnight mask. My skin feels plump and
nourished by morning. I am trying to source a cheaper alternative but, now I'm 44, I feel my
skin deserves this!
Merumaya Youth Preservation Moisturiser 15ml (RRP £17.50)
Would I repurchase?

No.
See my review for this product here.
Steamcream 75ml (RRP £12.95)
Would I repurchase?
Undecided - although i do have another in my stash.,
I love the texture of this cream, it is very light although I feel I have to wait a while before
applying make up. My main problem with this product is the smell. It smells of lavender,
which is a scent I usually like, but this lavender scent is so strong. To me it is far too strong
for a product that can be used on the face and is more suited as a body or hand cream. It
can be used on face, body and hands.
I have a
couple more tins in my stash from beauty
boxes which I will use but I am not sure if I would go out of my way to repurchase. I do love
the tin designs, though. What do you use your empty Steamcream tins for? I'm thinking of
using this one for hair grips/bobby pins because they are just too cute to throw away!
Next are my body product empties: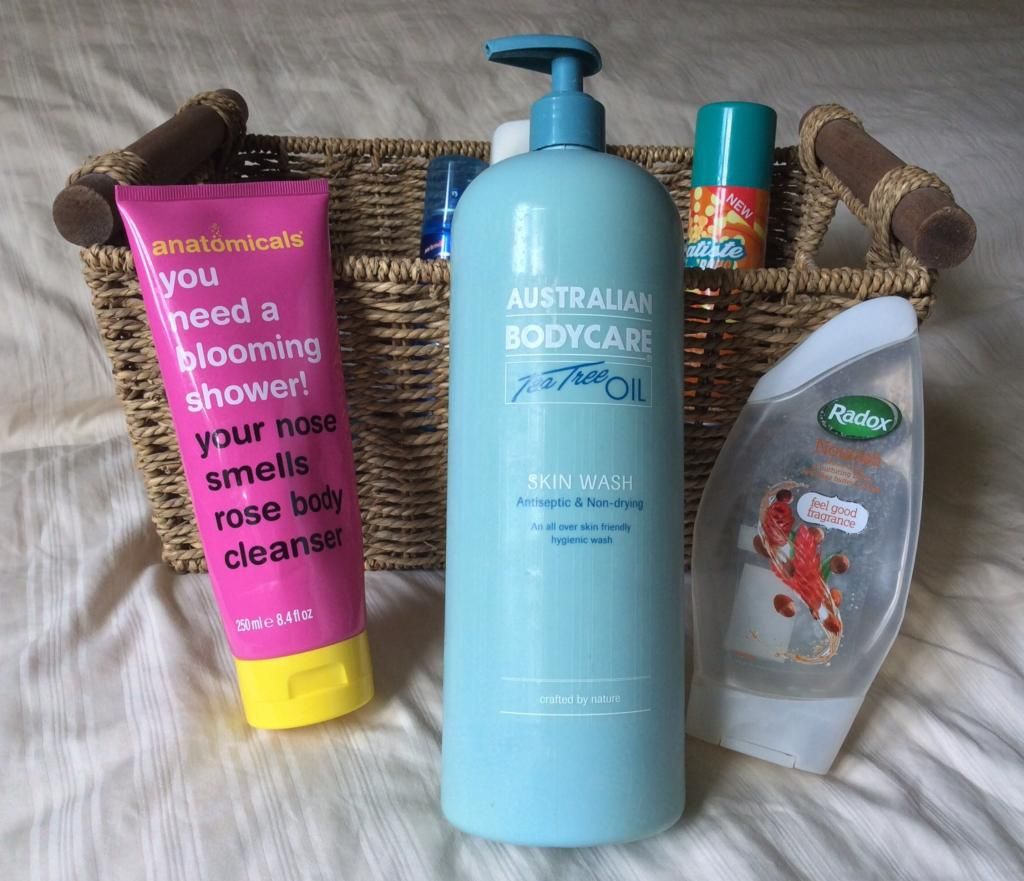 Australian Bodycare Tea Tree Oil Skin Wash 1 litre (RRP £30)
Would I repurchase?
No.
I hated the antiseptic fragrance of this wash. I suppose that's the tea tree oil. To me, it smelt more like an antibacterial cleaning product, not something I wanted to wash my body with! I
have repurposed this by pouring into empty hand wash bottles. It is perfect for washing hands but not my body!
Radox Nourish Shower Cream - Shea Butter & Ginger 250ml (RRP £1.99)
Would I repurchase?

Yes.
This smelt so lovely. Every time I used it, it reminded me of holidays. I should imagine it is the Shea butter that gives off that beachy, sun cream smell. Can often buy this half price so it is wonderful for an every day shower cream.
Anatomicals You Need a Blooming Shower! Your Nose Smells Rose Body Cleanser 250ml (RRP £3)
Would I repurchase?

No.
I usually love rose scented products, but this just didn't hit the mark for me. It just smelt too
artificial and I was glad to see the end of it. I didn't even cut open the tube to get the last
dregs out, which tells you all you need to know!

Finally, my hair product empties: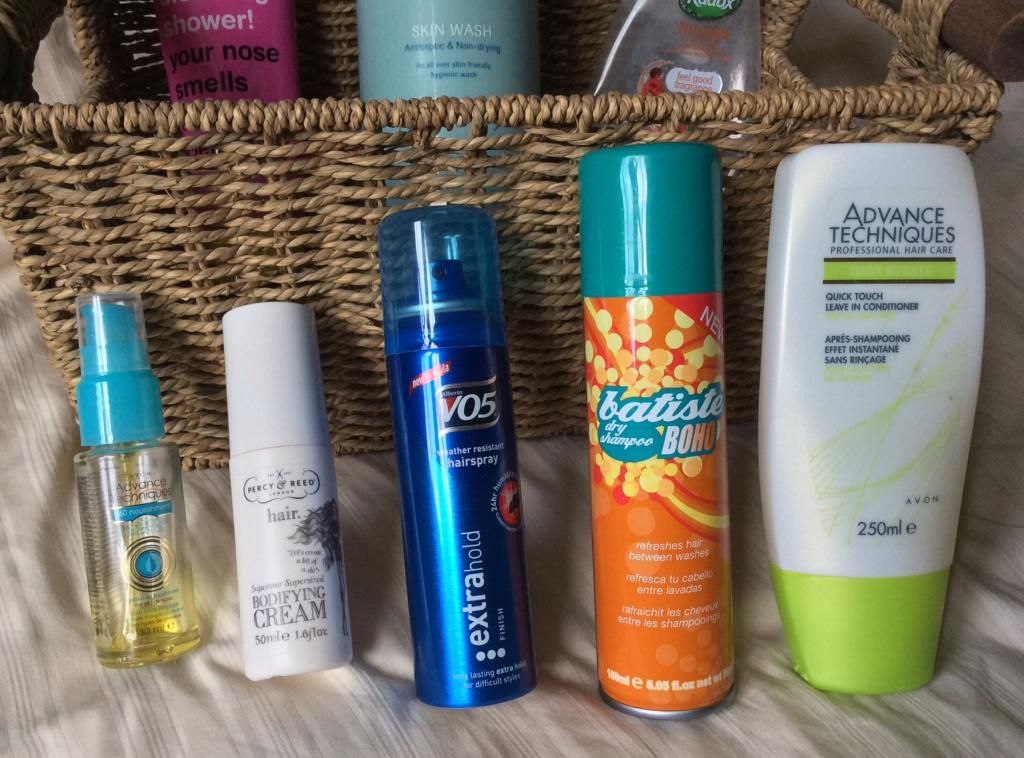 Batiste Dry Shampoo in Boho 150ml (RRP £2.99)
Would I repurchase?

No.
I don't tend to use dry shampoo but, like the one mentioned last month, I won this in a giveaway ages ago so thought it was about time I used it! I am not keen on dry shampoo
because they tend to leave a white caste/residue on my hair and I'm afraid this was no exception. If anyone could recommend a dry shampoo that doesn't do this (I have ginger
hair) then please comment below. Thanks.
Avon Advanced Techniques Leave In Conditioner 250ml
Would I repurchase?

No, no, no!!!
I don't often use leave in conditioners but I think this came in a set that I bought ages ago. I can't find it in the Avon website so perhaps it is discontinued. I'm not surprised! It is so runny that it was hard to get it on to my hair without making a big mess. I gave up less than half way through this bottle and binned it.
Percy & Reed Bodifying Cream 50ml (RRP £2.69)
Would I repurchase?

No.
I didn't feel this actually did anything for my hair so seems pointless repurchasing. It also is highly fragranced. I don't mind a bit of fragrance but I don't want it to compete with my
perfume. All Percy & Reed products are highly fragranced which I would overlook if it loved
the product, but this one is not for me.
VO5 Weather Resistant Hairspray 100ml
Would I repurchase?
Maybe
I bought this as a travel size when I had a weekend away. What can I say? It's a hairspray, it did what it said on the tin! I've never found a "Holy Grail" hairspray, I find them all much of a muchness. I tend to buy whichever is on offer. Prove me wrong - tell me which is the hairspray I HAVE to have.
Avon Moroccan Argan Oil Leave-in Treatment 30ml (RRP £5.50)
Would I repurchase?
Yes.
This oil/hair serum can be used on wet and dry hair. I used it on the ends of my wet hair after washing. It helped ensure there was no frizz. It's frequently on offer, in fact at the time of
writing it is priced at £3.30. A little goes a long way and it is a great little serum.

Well sorry for the long post. I didn't realise I had so many empties in May. Alas, most are items I would not repurchase - only 3 hits to 8 misses and 2 "maybes".
Thanks for reading.
Enjoy the rest of your day.
Take care,
CJ xx