When an email dropped into my inbox from YSL offering a free gift with purchase (GWP) I resisted for a whole week before going on their website and placing an order!
I decided to order 2 Rouge Volupte Shine lipsticks because I absolutely love the formula and the packaging is fantastic. Yes, they are expensive but so worth it. I do think the colour swatches on the YSL site are dreadful so I did a fair bit of research on various blogs before I decided upon no 7 Rose Infinite and no 17 Rose In Tension priced at £25 each. I shall do swatches in another post because I want to get this post up quickly because I'm not sure when the free gift offer ends.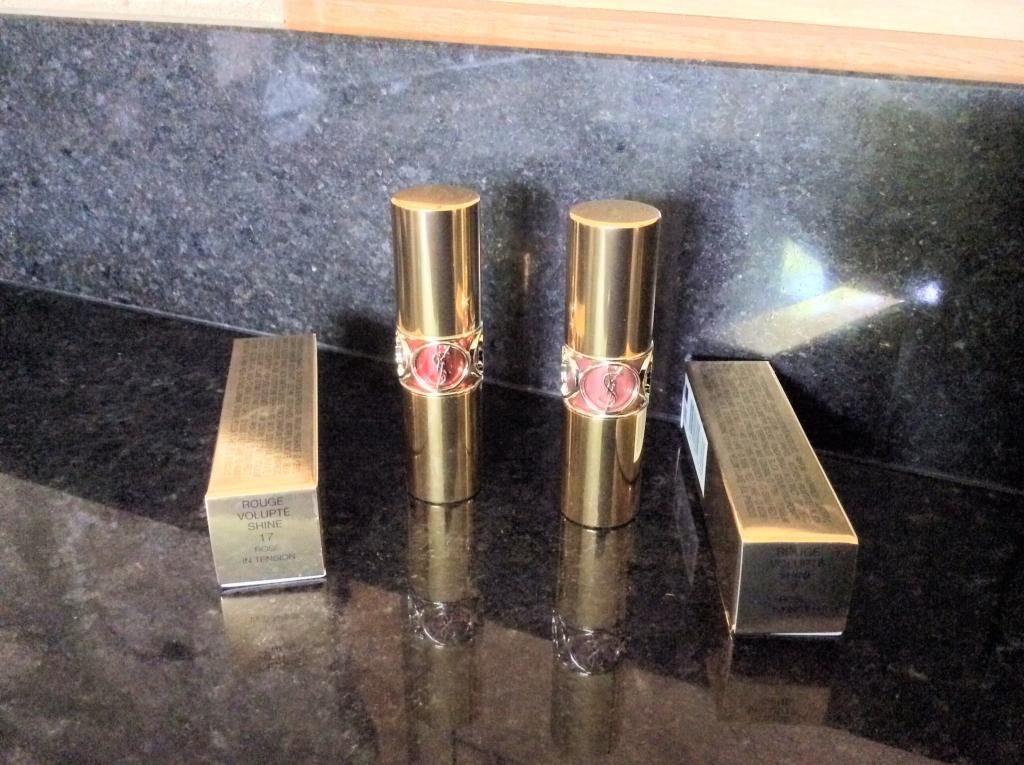 Now if you have never shopped at YSL before, you receive 2 free samples with every order. You cannot choose these samples but you can see what you will receive because they add them to your basket. Although only 2 samples were shown in my basket, I actually received 3 samples. The samples I received were: 1.5ml Eau de Parfum of Manifesto, 1.5ml Eau de
Toilette of L'Homme and a 2ml mini Mascara Volume Effet Faux Cils (Luxurious Mascara for a False Lash Effect), all pictured below.
The email I received from YSL said that if I spent £45 or more and quoted JUNETREAT in the promotional code box then I would receive a 5 piece deluxe makeup gift set worth £50.
The items are received were: another L'Homme sample, another Mascara Volume Effet but on a card this time, 3ml Forever Youth Liberator Eye Creme, 0.8g Waterproof Eye Pencil in black and a mini Rouge Pur Couture lipstick in shade no 9 Rose Stiletto.
I've never tried a YSL mascara or eyeliner so I can't wait to give them a try. I've also never tried the Rouge Pur Couture formula lipstick so I am eager to try that too. I am really pleased with my free GWP. I am not sure how long the offer is on for so if you are interested I wouldn't hang around because it is probably just whilst stocks last.
Since my order I have received another email offer from them. Argh! This is for a free
summer make up gift set with a £40 spend.
The code required is SUMMERTREAT
Now I don't know if this new code means the one I used is no longer valid, which would be a shame because I feel the JUNETREAT is a better gift. The Summer gift does not have a lipstick and has a make up bag instead and still has the mascara but alas no eyeliner.
There was also a code in my parcel for £10 off any L'Homme fragrance, code LK24Z4, but again no expiry date. I wish they'd state expiry dates!
Have you tried YSL make up? What are your recommendations?
Thanks for reading.
Enjoy the rest of your day.
Take care,
CJ xx
**purchased with my own money