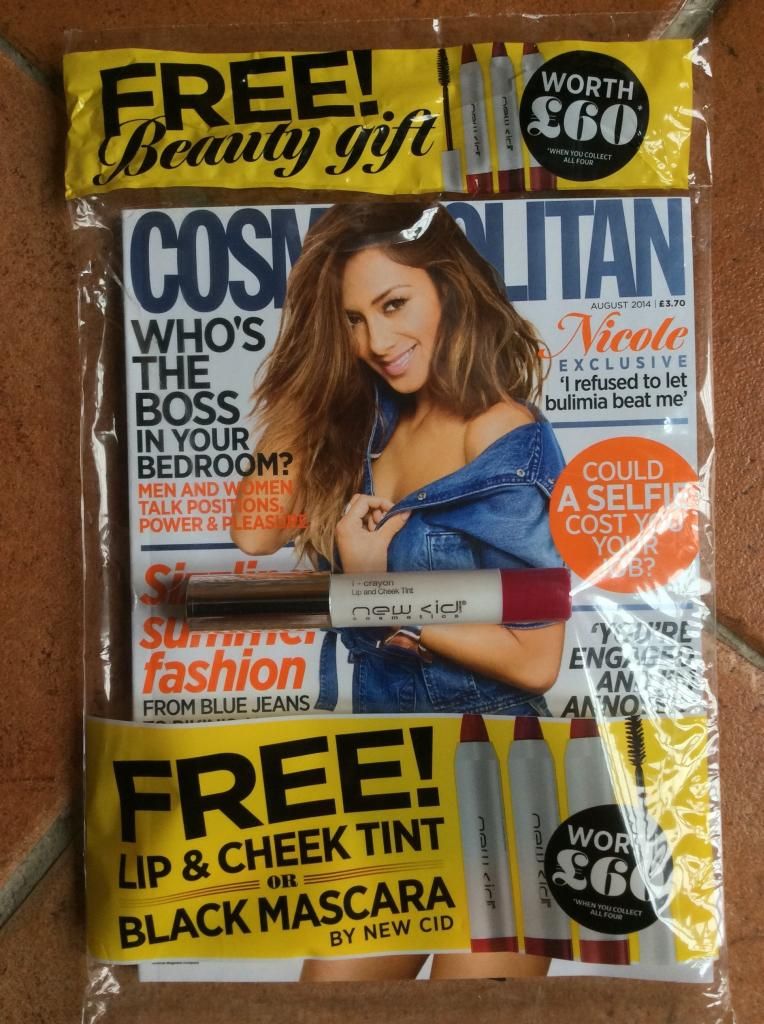 Well, it looks like it's another great month for freebies!
First up is Cosmopolitan priced at £3.70 and out now.
There is a choice of 4 items from New CID - a black mascara or a choice of 3 different shades of lip & cheek tint. Collectively they are worth £60.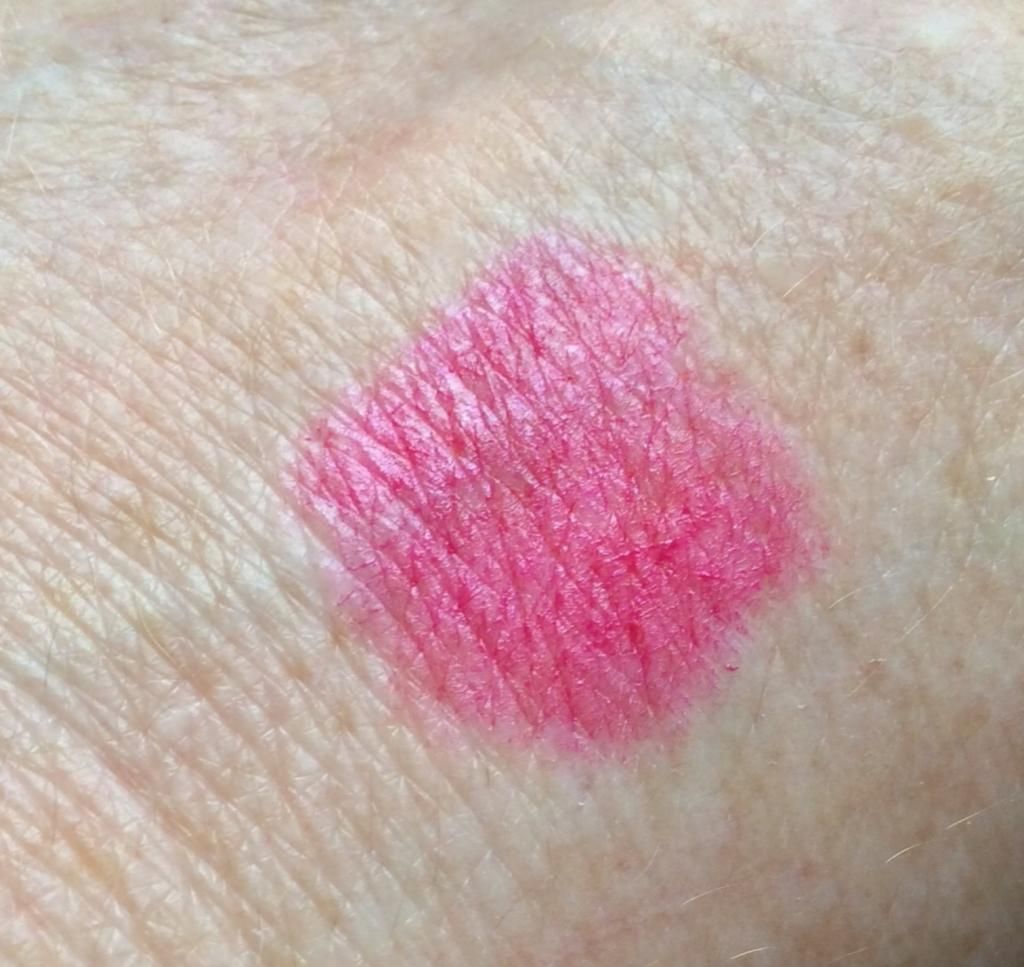 They only had 2 of the shades of the lip & cheek tint in my local shop so I chose the shade Plum Cordial, swatch above. It looks a little bright for me but I've yet to try it on my lips or cheeks but will do a review in due course.
I've never tried anything from this brand before so I thought I would give it a try.
UPDATE: for a review and swatches of all 3 shades, see my post here.
Next there is Harpers Bazaar, out now, priced at £4.20.
This comes with the choice of 4 L'Occitane fragrances worth £8 each.
I didn't buy this but I peeked at the fragrance names, although our shop only had 2.
They were Jasmine & Bergamote and Thė Vert & Bigarade (green tea and bitter orange).
Elle magazine, priced at £4 has a little skincare set from Malin & Goetz worth £10.
This
travel sized set comprise of a grapefruit cleanser, vitamin E
moisturiser and a lip moisturiser.
I'd not heard of this brand before so I passed on it because I have so many skincare samples already. Now I have looked it up online, I am tempted to go and buy it!
Have you tried anything from this range? Is it good?
Red magazine, also priced at £4 has a free Rodial lip balm worth £19.
I did pick this up but then thought better of it because I have numerous lip balms already and returned it to the shelf.
Again I have never tried this brand before so again I am tempted to return to buy it! Argh! These magazines know what they are doing don't they?! Have you ever tried this lip balm?
The August issue of Instyle magazine comes with a free gift of Neal's Yard hand cream
worth £10.
I didn't go for this because I have several hand creams in my stash and to be honest I rarely use the ones I do have.
Marie Claire, priced at £3.90, has the choice of 2 items from the Balance Me range, collectively worth £25.
The free gifts are the Cleanse & Smooth Face Balm 25ml or the Moisture Rich Face Cream 40ml.
I have heard that this magazine is available at WH Smiths for just £2.50 this month but, because I don't have one local to me, I cannot verify this. However, if you have one locally it may be worth trying there first.
Finally, we come to Glamour magazine. This months free gifts are from Clinique.
There is a choice of a High Impact mascara, Dramatically Different Moisturising Lotion or 2
Chubby Sticks in the shades of Super Strawberry or Woppin Watermelon.
I was thrilled to hear of this freebie so set off to buy both shades of Chubby Sticks. After driving to no less than 4 supermarkets and 7 newsagents and rifling through a hundred or so Glamour magazines with the mascara and lotion attached, I could not find the elusive Chubby Stick. I am so disappointed because this was the only freebie I really wanted this month. Never mind, there are worse things in life than not owning a Chubby Stick! Were you lucky enough to find one? I hope so.
Well that's it for the freebies this month. Please let me know in the comments if I have missed any. Which freebies did you go for this month?
Thanks for reading and enjoy the rest of your day.
Take care.
CJ xx