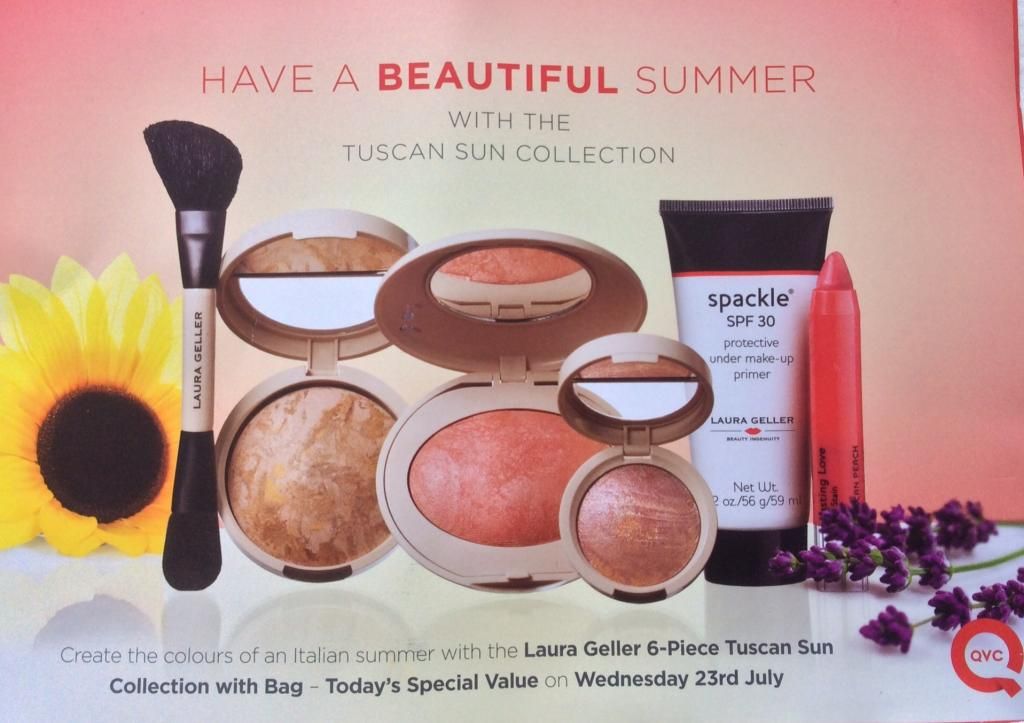 Today I received a postcard through the post from QVC with details of their Laura Geller TSV which launches this Wednesday 23rd July at midnight (so it looks like a late Tuesday night/Wednesday morning for me!).
The TSV is called the Tuscan Sun Collection and it contains the following products:
Balance & Brighten baked foundation in choice of shades - Porcelain, Fair, Medium, Tan or Deep.
Baked Elements Blush (shade possibly Siena?)
Baked Brûlée Highlighter (shade possibly Honey Lavender?)
Spackle under make up Primer with SPF 30
Lasting Love Lip Stain in shade Tuscan Peach
Brush/applicator
Plus it comes in a lovely straw shopper bag (not pictured) but there is a link to it here.
The postcard doesn't state the price but I am hoping it is around the £40 mark. If it is more, then I may have re-think buying it because I have several Balance & Brighten in my stash already and I also already own the Honey Lavender highlighter if it is that shade in the TSV.
So fingers crossed it will be under £40 because I do like the look of the blush and lip stain and the bag!
Do you like Laura Geller make up? Do you think you will be purchasing?
Thanks for reading.
Enjoy the rest of your day.
Take care,
CJ xx