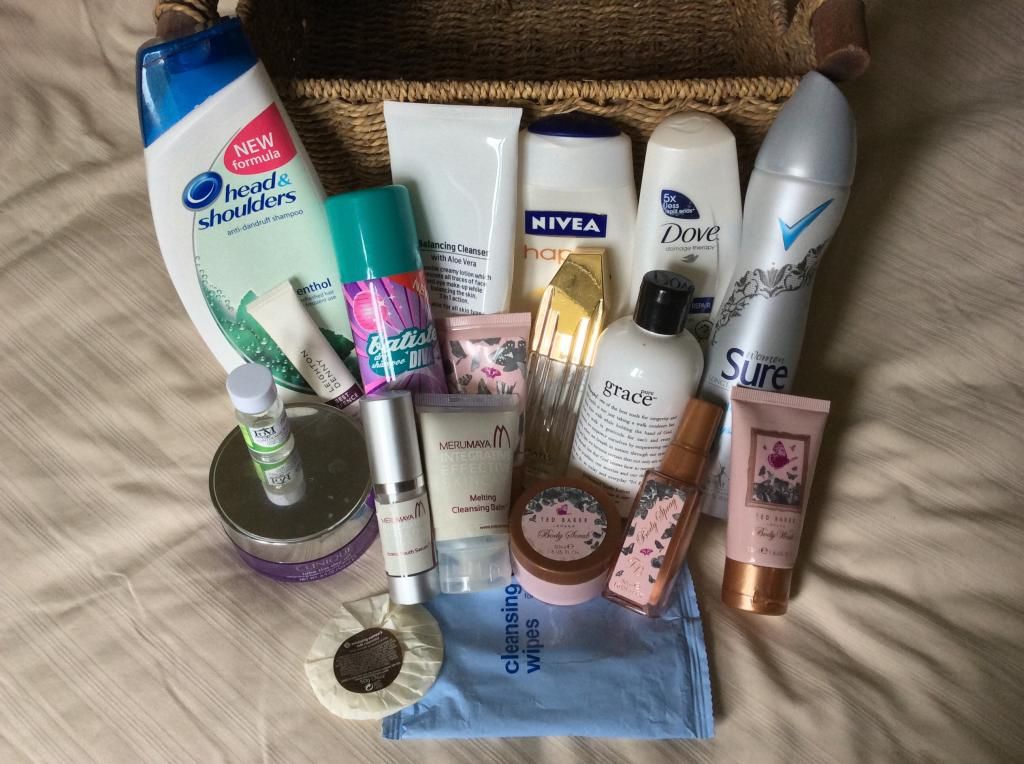 Well this is my first ever "empties" post and I do apologise that it is a tad late for May but I didn't want to wait to include them with June empties at the end of this month because there are quite a few.
Let's start with face skincare items: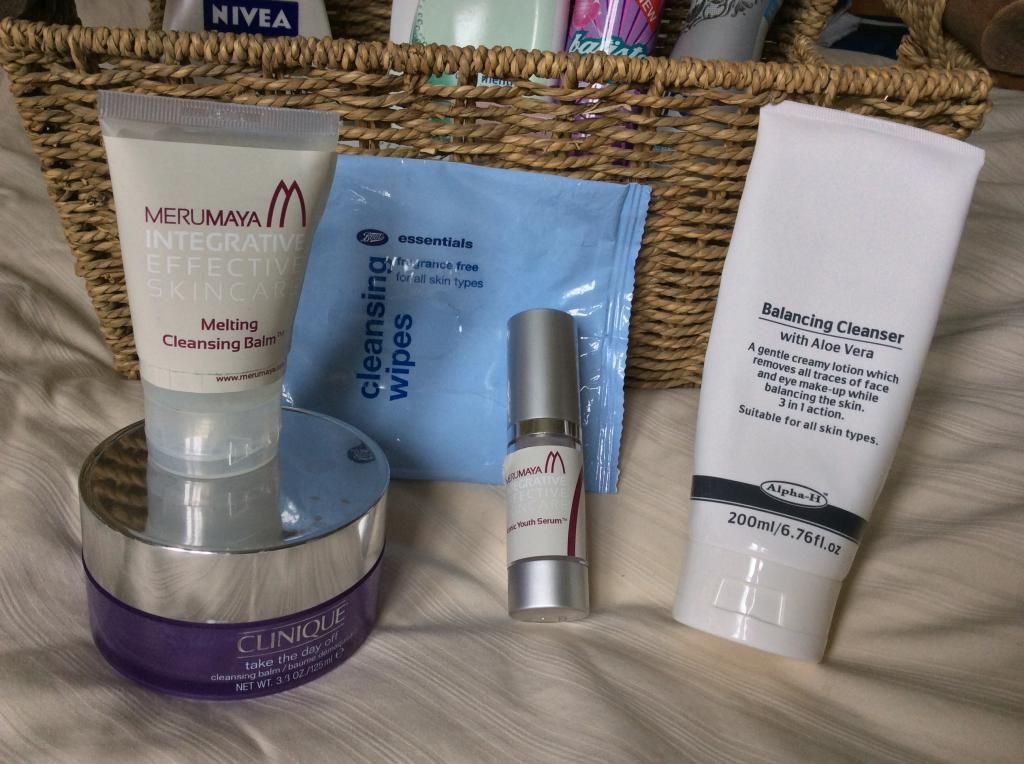 There are actually 3 cleansers this month. I always have at least 2 cleansers on the go and these 3 all decided to finish this month, but no worries because I've lots more in my stash...
Clinique Take The Day Off Cleansing Balm 125ml
(RRP £21)
Would I repurchase?
Yes - and I already have!
This balm is quite thick and is great for my evening first cleanse because it removes all my make up with ease. It is unscented so great for those with sensitive skin. I previously used Emma Hardie Moringa Balm and I loved the EH fragrance lots so was disappointed that the Clinique balm was unscented, but then I had a VERY bad reaction to Emma Hardie which I think must be down to the essential oils so I have had to be very careful ever since.
Merumaya Melting Cleansing Balm 100ml (RRP £14.50)
Would I repurchase?
Yes - once I've worked through my stash!
For my review of this product, click here.
Alpha-H Balancing Cleanser with Aloe Vera 200ml (RRP £23)
Would I repurchase?
Yes - and I already have.
I tend to use this cleanser when I have breakouts because this seems to do a great job at calming them and clearing them. For me it is a "no nonsense" cleanser and isn't as luxurious to use as some of my other cleansers but it does a great job when my skin needs that extra help at certain times of the month.
Boots Essentials Fragrance Free Cleasing Wipes 25 wipes (RRP £1.50)
Would I repurchase?
No.
I don't tend to buy or use wipes but I inherited my late step-mothers beauty stash. She died
20 months ago and I am still working my way through her stash of beauty products. It is
taking time because I have a fair stash of my own too! Nothing wrong with these wipes, I
just don't tend to use them but I have been using these to remove my make up and then doing a double cleanse.
Merumaya Iconic Youth Serum 15ml (RRP £20)
Would I repurchase?
No.
See my review for this product here.
Next up are my body product empties: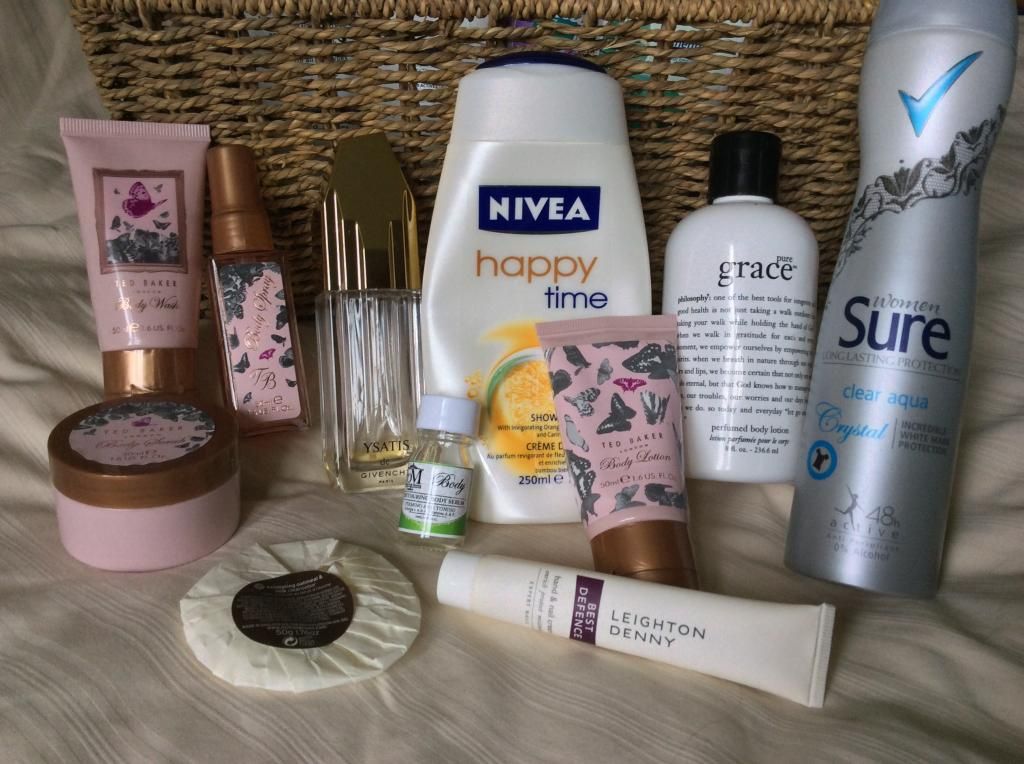 Nivea Happy Time Shower Cream 250ml (RRP £1.99)
Would I repurchase?
Yes - once I've used up my stash.
Love, love, love this! It is an orange blossom fragrance and I love using this for my morning shower. It lathers well, is very creamy and is often on offer at half price so for 99p what's to dislike?! I want to buy this again but I am being good and working my way through the rest of my shower gels first but I do miss this.
Ted Baker Butterfly Wings set (RRP £10)
Would I repurchase?
Maybe.
I received this little set for a birthday present last year. It contains a body spray, body wash, body scrub and body lotion. I do like the scent. It is quite a sweet scent which I am a fan of. Individually the products aren't fantastic, i.e the scrub doesn't do a lot, body wash doesn't lather as much as I'd like but, as I said, I DO like the fragrance. I wouldn't go out of my way to repurchase but, if it was in the Boots sale, then I would perhaps be tempted for the scent alone.
Molton Brown Oatmeal & Milk Exfoliating Bar
Would I repurchase?
No.
This was another birthday present and it came in a box of 4 bars. I cannot find this on the
MB website so perhaps it has been discontinued? I was totally underwhelmed by this. It didn't exfoliate at all and was more like a normal bar of soap with a few bits of oatmeal in. Unimpressed!
FoM Body Contouring Serum sample size
Would I repurchase?
No.
I bought this sample from Latest In Beauty so that I could give it a try. To be honest I don't think any creams/serums etc can get rid of cellulite but I thought I would give it a go. It is called a serum but I felt it was more of a runny oil. I didn't like it because you had to apply to wet skin and I had to remember to do this as soon as I got out of the shower which more
often than not I had towelled off before I thought about it. Too much faff!
Philosophy Pure Grace Body Lotion 8 fl.oz (RRP £15)
Would I repurchase?
Yes - I already have a spare in my stash!
I love the smell of Pure Grace. To me it smells so clean, like freshly laundered washing. Mmmmm. The lotion absorbs well and my only gripe is that the container it comes in is not very flexible which made getting out the last of the lotion very hard. I think perhaps once I have used the one in my stash I would think twice to a repurchase due to the price. I do think it is expensive for a body lotion and if I could source a cheaper alternative with the same scent then I would. Does anyone know of a Pure Grace dupe please? Doesn't have to be body lotion, any dupe be it perfume, shower gel would be most welcome! Thanks.
Sure Women Crystal Clear Aqua Anti Perspirant 250ml (RRP £3.19)
Would I repurchase?
Yes - already have, lots my stash!
This is my deodorant of choice. To be honest I do prefer a solid stick deodorant because I feel they are more effective, but they tend to mess up the underarms of any tops I wear so I
have switched to spray deodorants now. Has anyone found a stick deodorant that doesn't
leave any residue?
Ysatis Eau de Toilette 100ml (RRP £47.50)
Would I repurchase?
Perhaps.
I have had this perfume for many years and I believe the packaging has changed now. This was my perfume of choice back in the late 1980's, early 1990's. It has lots of memories attached to it, so in a way I was sad to see it go. It was the perfume I wore when I met my
husband and I wore it on our wedding day too. That said, there are many other perfumes I
prefer these days. This is a heavier perfume than I tend to wear now. Perhaps one day I will
revisit it for nostalgic reasons but for now I prefer a lighter, sweeter fragrance.
Leighton Denny Best Defence Hand Cream 30ml (RRP £5.50)
Would I repurchase?
No.
My review for this product is here.
Finally, my hair product empties: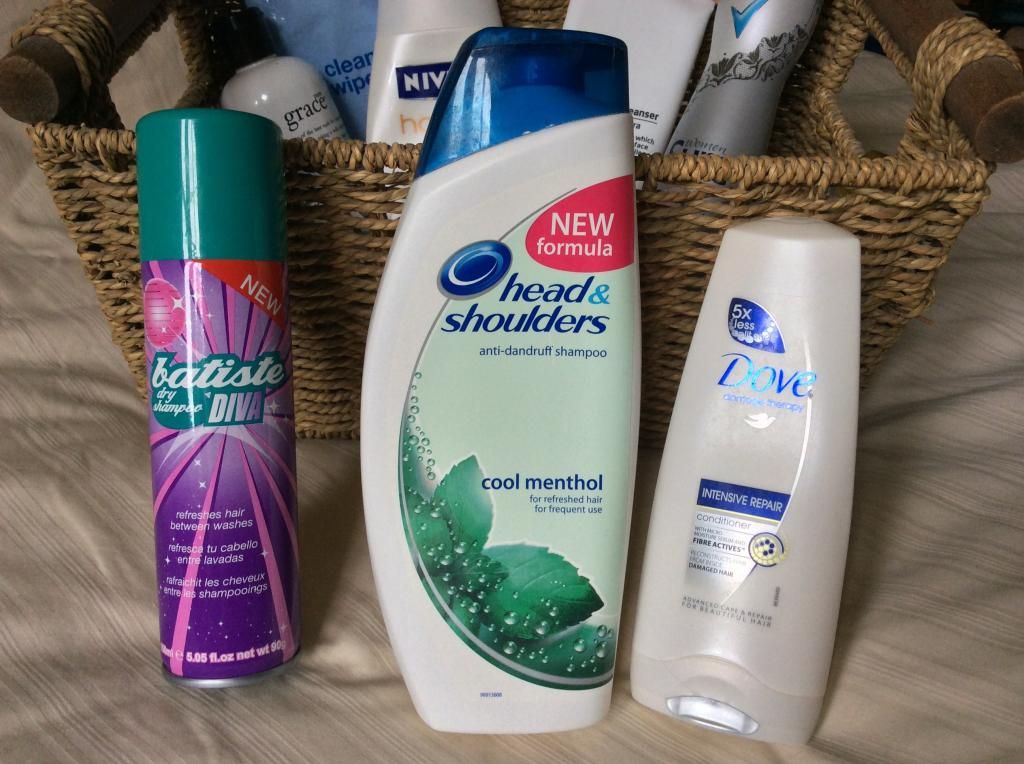 Batiste Dry Shampoo in Diva 150ml (RRP £2.99)
Would I repurchase?
No.
I have had this so long I don't think they even do this fragrance anymore! I don't tend to use dry shampoo but I won this in a giveaway ages ago so thought it was about time I used it! I know a lot of people swear by Batiste, but I am not a lover of dry shampoo because I find they all leave a white caste/residue on my hair and I'm afraid this was no exception. If
anyone could recommend a dry shampoo that doesn't do this (I have ginger hair) then please comment below. Thanks.
Head & Shoulders Shampoo in Cool Menthol 500ml (RRP £4.99)
Would I repurchase?
Yes - I already have.
I suffer from psoriasis on my scalp and I have tried lots of shampoos, both prescription and over the counter but this seems to be the best at easing my itchy scalp. I've not found anything that clears it up completely but this helps the irritation. I actually find the Cool Menthol variety better for this than their Itchy Scalp one. I haven't been able to find the Cool Menthol in the shops but I have purchased one called Menthol Fresh which has the same packaging so fingers crossed it has just been renamed. I might have to drop them an email to check...
Dove Damage Therapy Intensive Repair 200ml (RRP £2.69)
Would I repurchase?
Maybe.
This conditioner didn't wow me but I didn't hate it either. It did what it needed to do - conditioned my hair without weighing it down. I would perhaps repurchase this if it was on offer but I am still on the hunt for my Holy Grail conditioner.
Well sorry for the long post. I didn't realise I had so many empties in May.
If you are still here, thanks for reading.
Enjoy the rest of your day.
Take care,
CJ xx