Well now the summer is supposedly here in the UK I thought it was about time I bought some new sandals. Now I am unlike most women because I hate shoe shopping! I have small feet (size 3.5) but they are extra wide. Shops seem to equate small sized feet with delicate, petite feet, not the fat feet that I have!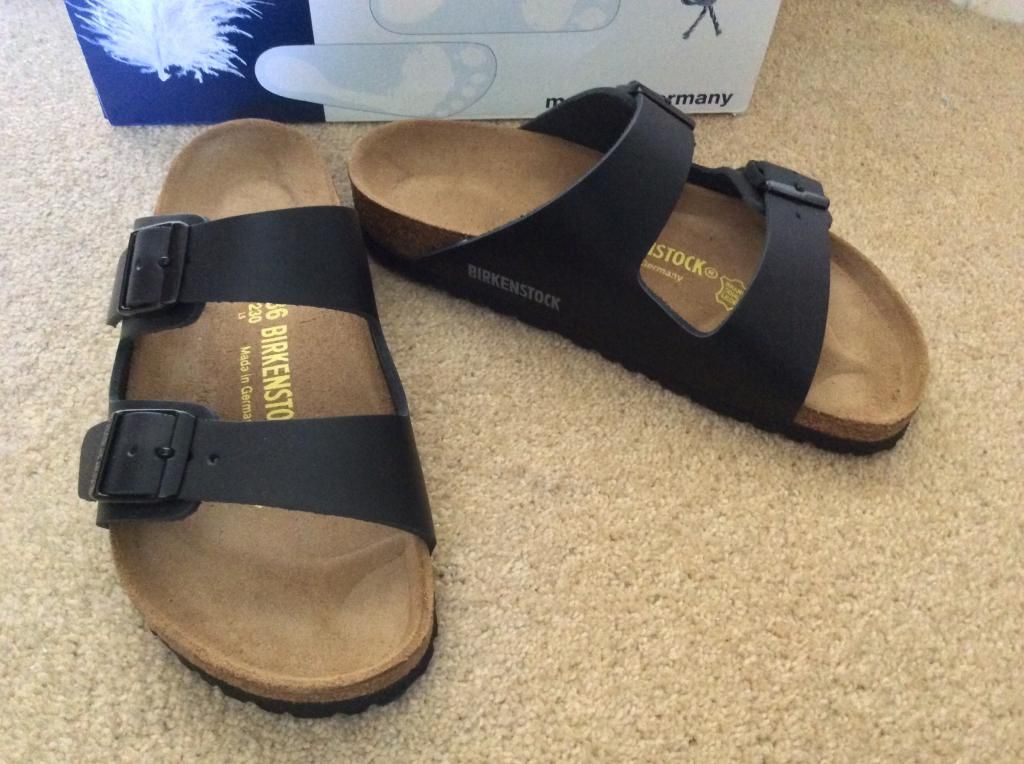 I have been wearing Birkenstocks for years, way before they became fashionable. I bought my first pair in a sale many moons ago for the princely sum of £16. They were the Arizona
style but a floral print. I wasn't keen on the floral print but for that price I wanted to see if the comfort claims were true. I used to refer to them as my "granny" sandals! If you've never worn Birkies before then the first time you try them they are so uncomfortable. I felt like I had 2 planks of wood strapped to my feet! Anyway, after a week of wearing them round the
house they were so comfortable by the end of the week. When we went to Disneyworld in Florida 4 years ago, my Birkies were my footwear of choice. Hours of walking around theme parks in sweltering heat and not a single blister and they didn't even rub. Since my first pair, I have bought several pairs of Birkenstocks but the Arizona style, although not the
most glamorous of their styles, have always been the most comfortable to wear.
My old pair are still in regular use but are looking battered and bruised so I decided to go for some black Arizona's because they'd be the most versatile. I also decided to get a leather
pair because I knew I'd get lots of wear out of them. I purchased these from Amazon for around £43. If you've never bought Birkenstocks before then I'd recommend trying on in a
shop first because they can come up quite large. One thing about my new pair that has concerned me is the branding. All my previous pairs have had the name emboss stamped
on the side, whereas on this pair it is just printed on top. I was concerned they were fakes but I bought them direct from Amazon rather than a seller, so surely they must be genuine? The box looks authentic. Does anyone have a new pair and could tell me if theirs are printed too. Pics
below: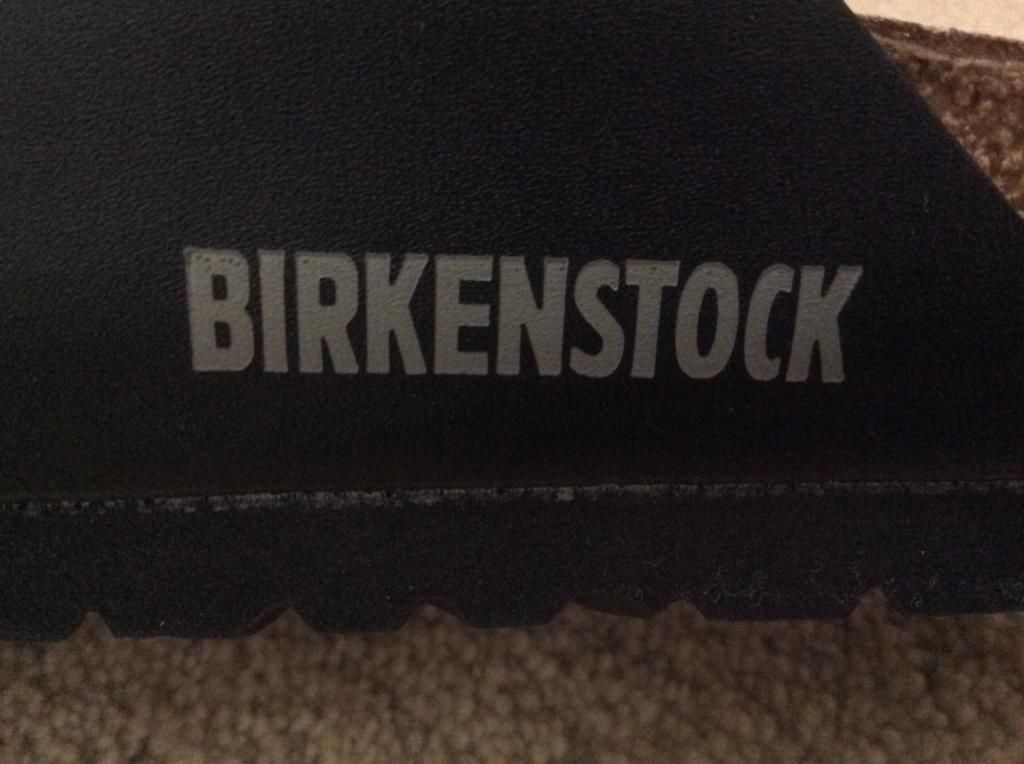 New Birkies - printed branding.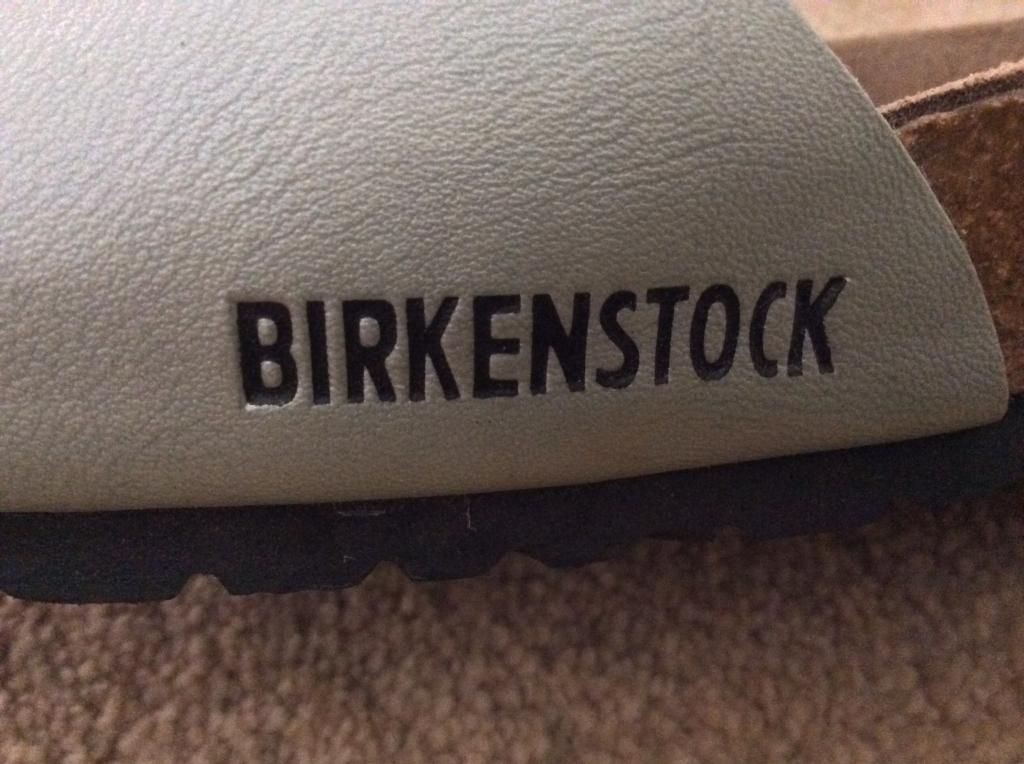 Old Birkies - embossed branding.
Everything else is fine, it is just this branding that is niggling me. Silly, I know!
The other pair of sandals I bought were from Next and they were in the sale at £14. They aren't particularly exciting, just a wedge sandal. I cannot wear heels so this is a good compromise to get a bit of height.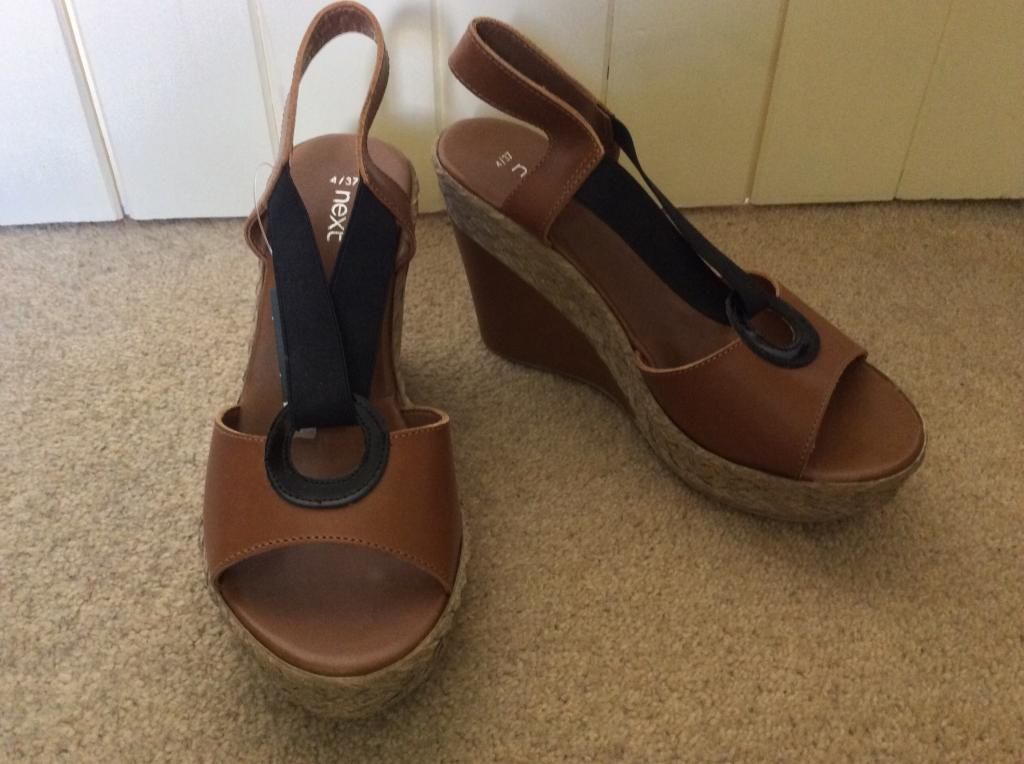 I wish I could wear sexy high heels and I have tried but I end up with blisters and I find them so uncomfortable. Don't misunderstand me, I wore my fair share of heels in my teens and twenties but now I'm over 40 I rarely wear them. I only own one pair now and I last wore them to a wedding a year ago and yes I ended up with blisters! I also have to be careful when I buy sandals because I cannot go for anything with an ankle strap. Why? I have the dreaded "cankles"! I hate them. I also hate the person who invented the word cankles!
Dreadful word! Anyway, I'm waffling as usual, so suffice to say, although the Next sandals aren't going to win any style awards, they will give me a bit of height without drawing attention to my legs!
So are you a heels or a flats kind of girl?
If you have discovered heels that are comfortable please comment below and covert me!
Thanks for reading.
Enjoy the rest of your day.
Take care,
CJ xx