A couple of months ago I purchased the Alpha-H TSV from QVC which, besides Liquid Gold and the Balancing Cleanser, contained the Alpha-H Eye Complex. I had tried both LG and the cleanser before, both of which I love, but I had never tried the Eye Complex.
Being over 40, I now need lots of help in the eye area. I have fine lines, redness, puffine
ss, dark circles and "scaly" skin (Milia? But thought that was white spots?). My eyes are also quite sensitive. I sound attractive, huh?! I am still on the search for my Holy Grail eye product. The trouble is, unless the results are dramatic, it is always very hard for me to tell if any of these creams/gels actually improve the problems I have in my eye area. I peer at
myself in the mirror, willing the cream to have worked, but has it, or is it just wishful thinking?
Therefore I decided, instead of guesswork, this time I would do a 60 day trial on a product and take photos at the start on Day 1 and photos at the end on Day 60 and compare them. As they say, the camera never lies! I am terrible for chopping and changing products so for 60 days I only used Alpha-H Eye Complex around my eyes so that I would know that any results are down to this cream alone. This trial was supposed to be for 30 days but I forgot to take photos after 30 days so I just carried on for another month!
The Eye Complex comes in a 15ml pump so it is quite a dinky bottle. I found the pump a tad temperamental. If I pressed down for a full pump, it dispensed far too much product for both eyes so I felt it was very wasteful. I did try to press the pump lightly so that less came out but I found this very hit and miss, sometimes it only dispensed a little and others far too
much. Perhaps I have a faulty pump, I don't know but I don't like wasting product when it is
not necessary.
The Eye Complex is more of a gel formula than a cream. This is one pumps worth and a tad too much for both eyes here.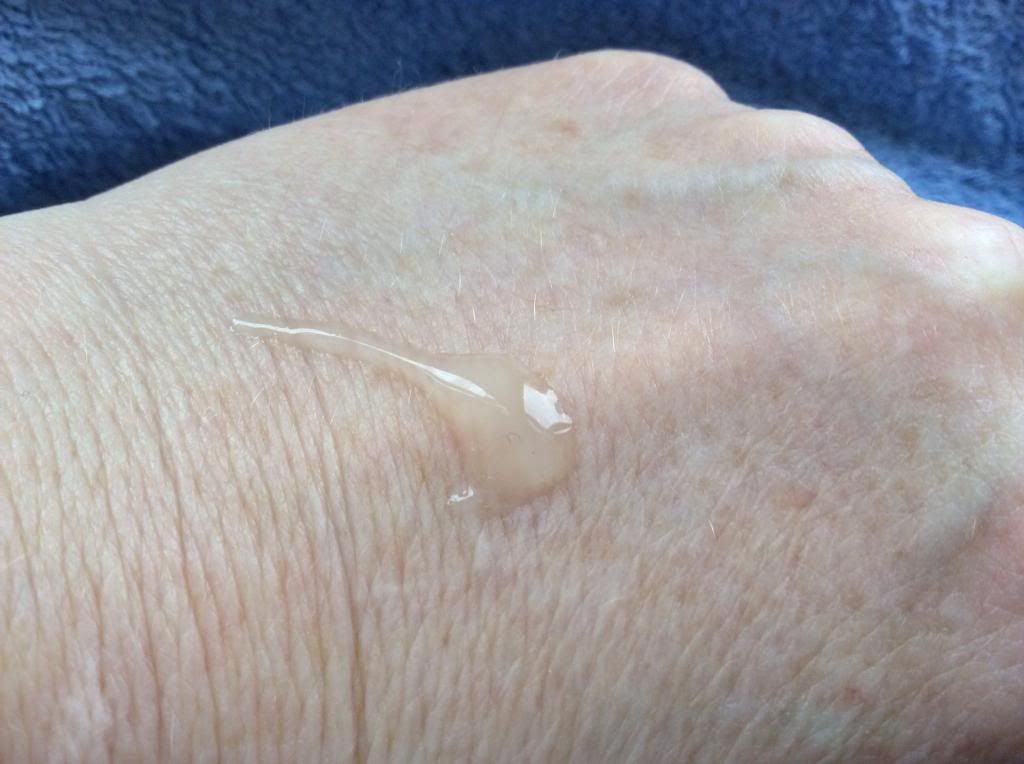 The TV demonstration said to apply it over the entire eye area, up to the brow, including the lids.
I applied it as instructed and a little seemed to go a long way. I did notice a tingling sensation when I first applied it which concerned me a little to begin with because I had a bad allergic reaction to a different brand eye cream earlier in the year which resulted in me getting steroid cream on prescription to clear it up.
The gel absorbed quickly and the tingling
stopped
after a minute. After approximately one week of use, I no longer had any tingling at
all.
I applied this gel twice a day, morning and night, before any serum or moisturiser.
So here we are with the
BEFORE and AFTER pictures without make up - sorry, I should have done a warning "graphic content" disclaimer earlier! ;-). Eek! I look old and tired!
Worse than I thought!
BEFORE using Alpha H Eye complex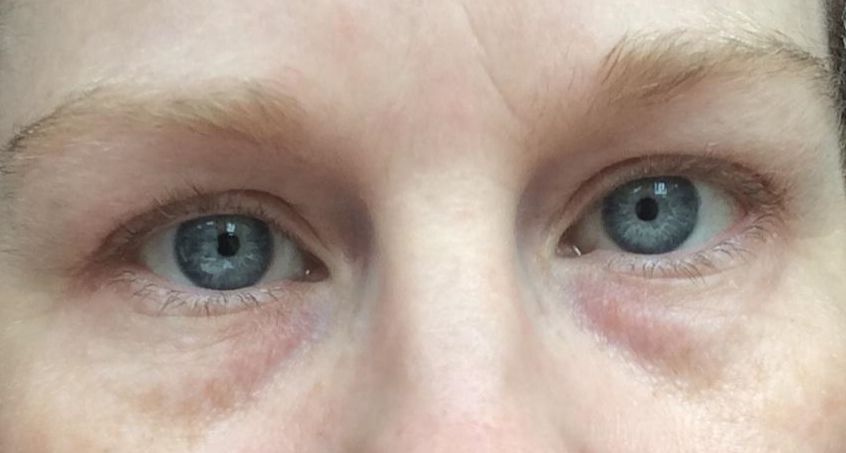 AFTER 60 days usage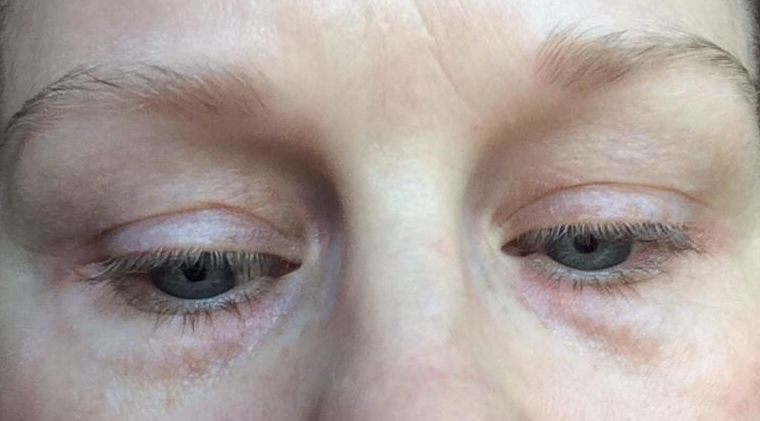 BEFORE Alpha H Eye Complex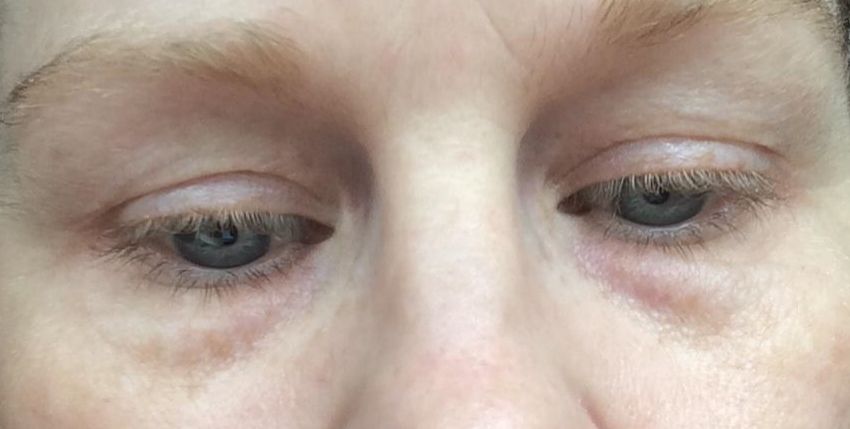 AFTER 60 days usage
BEFORE Alpha H Eye Complex
AFTER 60 days usage
As you can see, I do have the aforementioned problems. I didn't expect the darkness to
disappear because my dark circles are actually caused by the way my muscle lies under my skin which causes a shadow. I have always had it and have had to accept it. I had hoped that the Eye Complex would improve my other issues. Mainly the ageing! I do realise no over the counter product can make wrinkles disappear permanently but I had hoped that this would perhaps help soften them.
So what do you think of my results? I have zoomed in and studied them in great depth, and my verdict is... I can't see any difference! I am so disappointed. My eyes are perhaps a little less puffy in the AFTER pictures, but I find that this varies on a day to day basis anyway so I really don't think it is down to this product.
If you are interested in buying the Alpha-H Absolute Eye Complex it is available at all the usual online stores (Beauty Bay, Cult Beauty, etc) for £34.50 or for a couple of pounds more you can buy it at QVC which also comes with 50ml Alpha H moisturiser with SPF50 so better value for money.
I have a couple of applications left of this
Alpha H so the 15ml lasts about 2 months but, once I have finished it, my hunt for my Holy Grail eye cream continues...
I have a couple of different products in my stash so I shall be starting a 30 day trial with one of those very soon. Watch this space...
Have you ever used this Eye Complex? Do you have a Holy Grail eye cream/gel? I would love to hear about them.
Thanks for reading.
Enjoy the rest of your day.
Take care,
CJ xx
*purchased with my own money