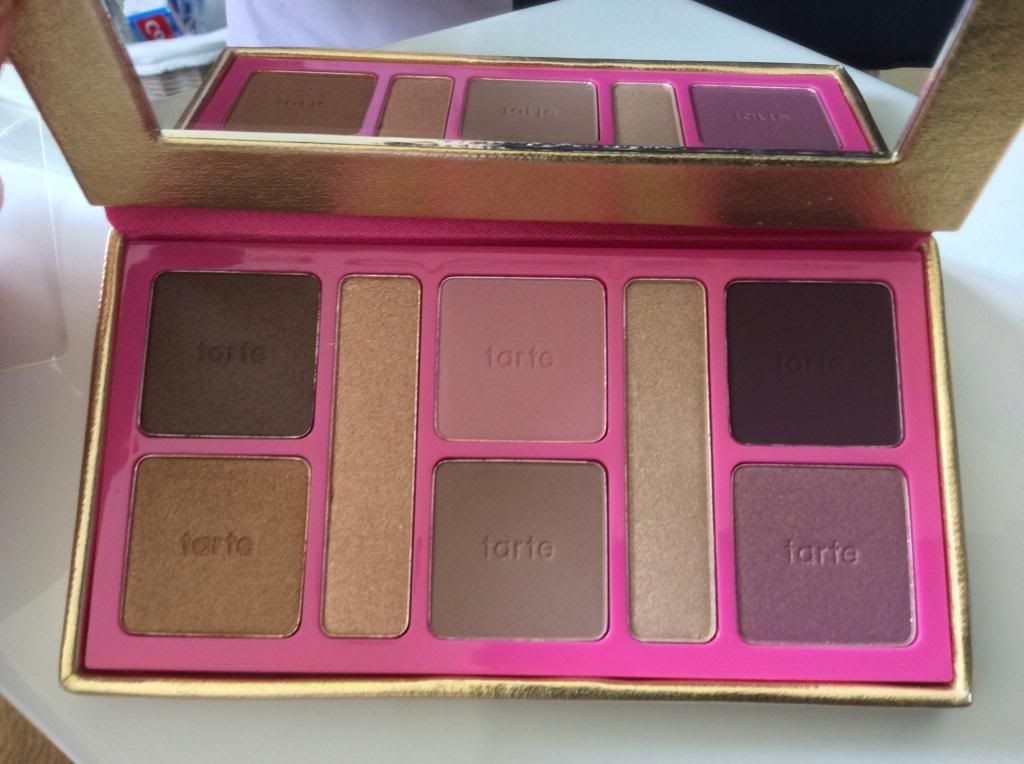 When Tarte launched here in the UK on QVC recently, I got caught up in the hype and ordered several things. If you are interested, the haul details are here.
One of the items I was particularly keen to try was the Amazonian Clay Sultry Sunset Eyeshadow palette. This appealed to me because it had both neutral "daytime" shades alongside more pinky-purple "evening" shades. I thought this would be great for going away, having both looks in the one palette.
When it arrived I was very impressed with the palettes packaging. This palette comes in a gorgeous cerise pink faux leather case with a metal embossed Tarte branding
plate on the outside. It was so tactile and lovely.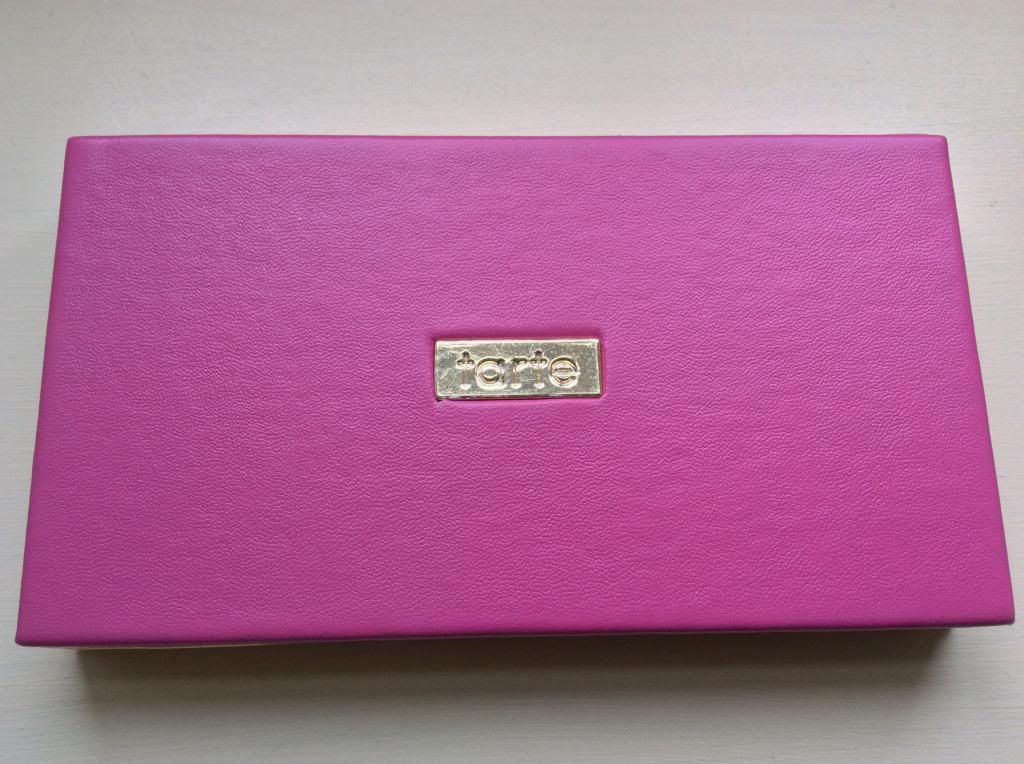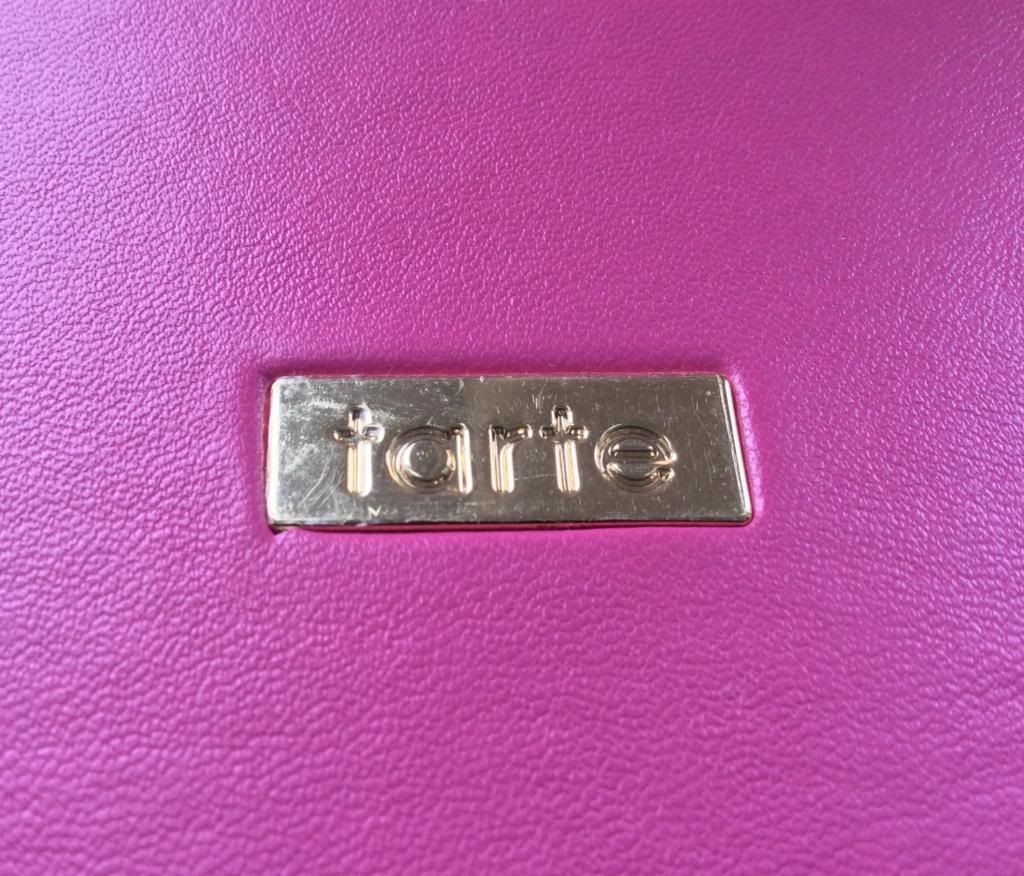 I really loved the packaging and couldn't wait to get inside! Opening it up, I wasn't disappointed. There was a lovely mirror in the lid and the colours were just what I was expecting. It contains 3 matte shades and 5 shimmers.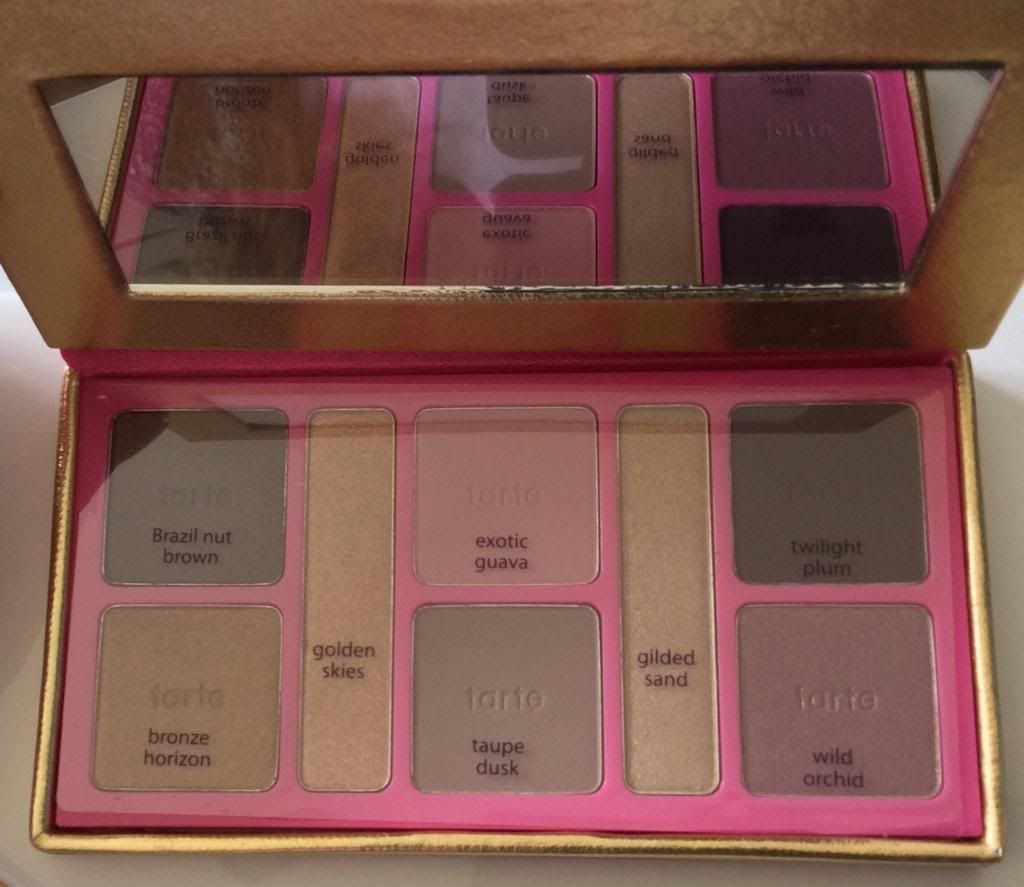 There was no applicator included, but that is no loss because I rarely use them anyway, preferring to use my own brushes. Here is a closer look at the shades, followed by a swatch on my arm.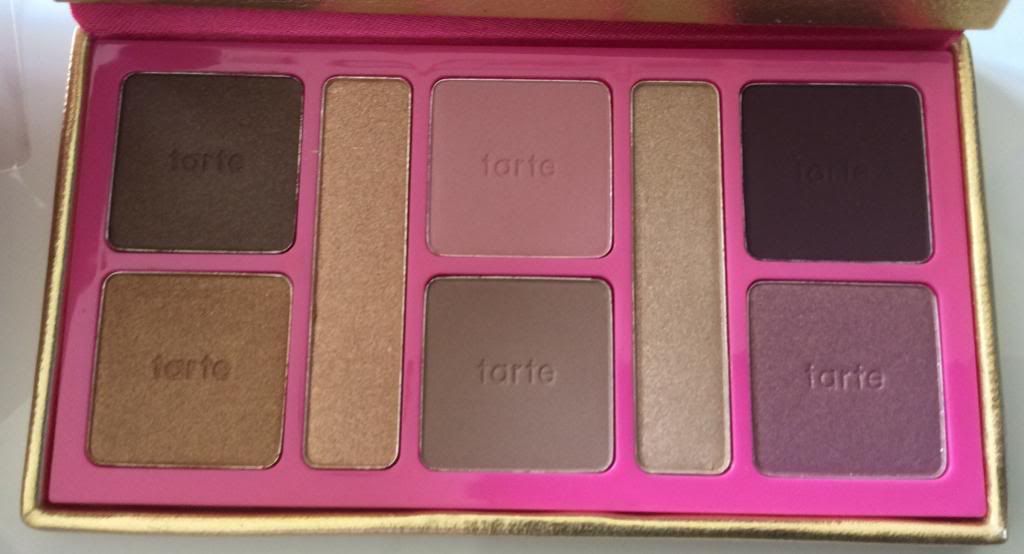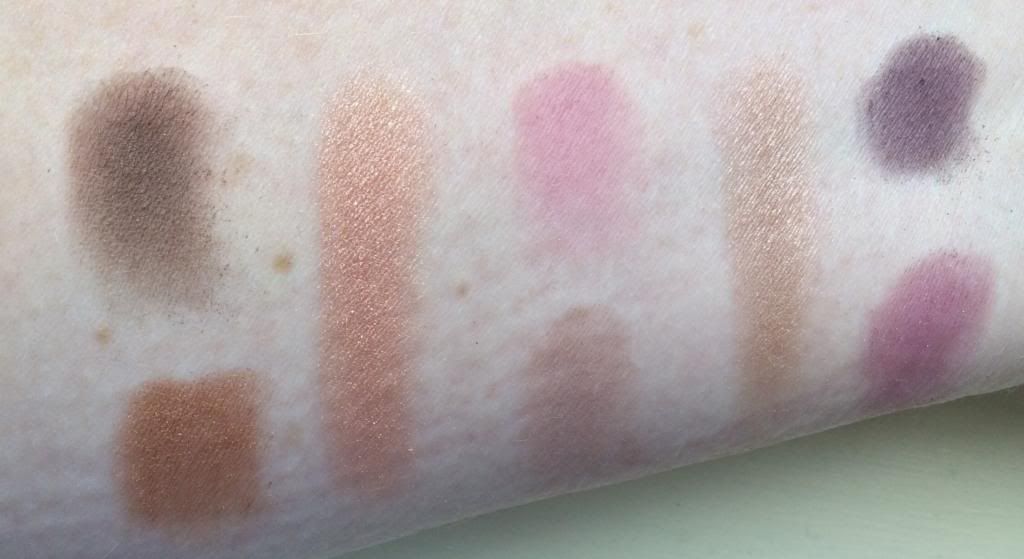 As I hope you can see, the colour pay off isn't that spectacular and this is with me building it up. The matte shades did have a lot of fall out. The palette also contained a little "guide" on how to create 2 different looks.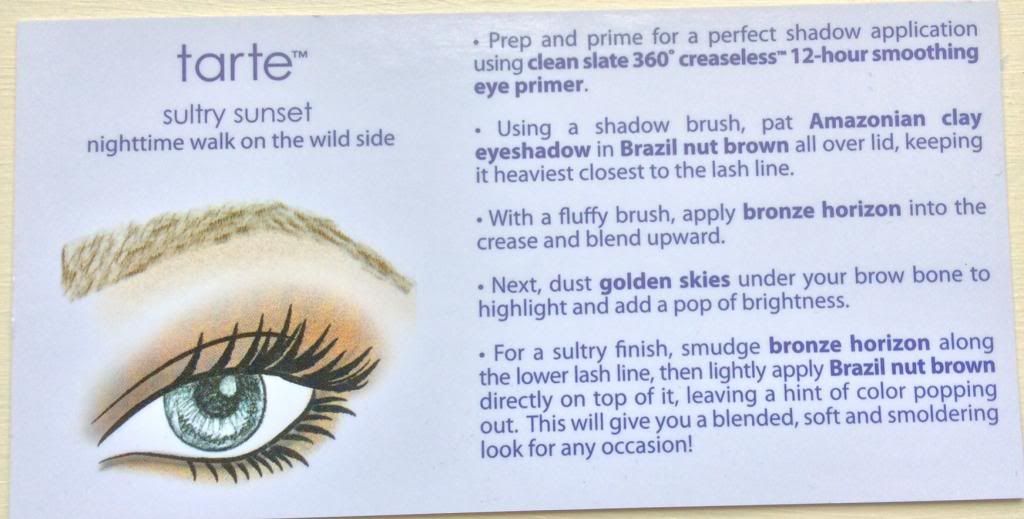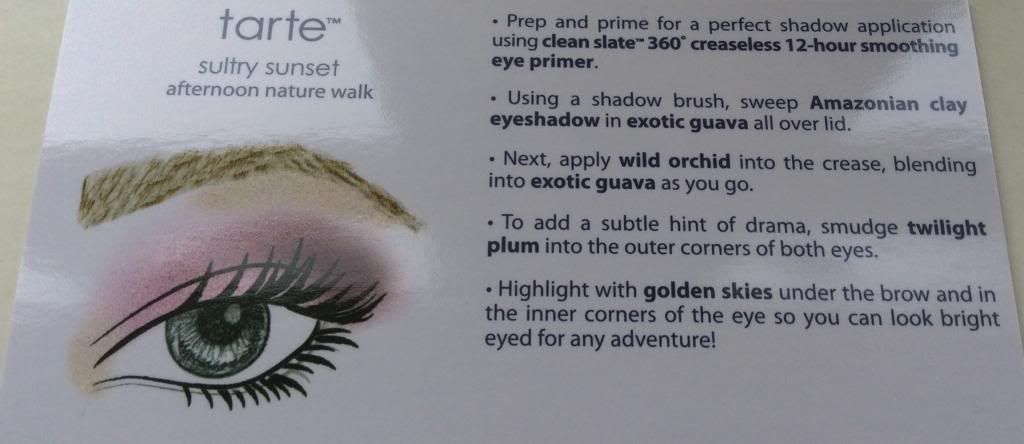 Strangely enough they have used the pink- purples for the daytime look and the browns for the evening look. I would have used them the other way round but, hey, what do I know?!!
Anyway, usually when I do make up reviews, I like to show them applied because I think it gives the reader a better idea of how they look, rather than just swatched on the arm. However, in this instance, there are no photographs of them applied!
I tried this palette for around a month but whichever way I applied the pink and mauves I looked like I had done 5 rounds with Frank Bruno (a retired UK boxer for those who don't know!). My eyes either looked
bruised or like I had been crying for hours! Not a good look unless it is Halloween!
The brown shades were okay but I think I have pretty much all the brown shades already covered with my Naked 1-3 palettes.
I REALLY wanted to love this palette which is why I kept it for almost 4 weeks to see if I could learn to love it but alas no. Thankfully QVC have a 30 day money back guarantee so if, for any reason, you are unhappy with a product you can return it to them within 30 days for a refund minus the postage charges so I have now returned it to them. This palette was £26.50 plus P&P so was definitely mid range veering towards higher rather than budget prices.
It hasn't put me off Tarte shadows by any means. These colours just weren't for me. Perhaps if QVC did a great value TSV which included a palette then I am sure I will be adding it to my basket but I don't think I would be tempted again to spend almost £30 for a Tarte palette alone.
I really hoped I would fall in love with this palette and I am so disappointed that I didn't.
Have you tried any Tarte eyeshadows? Did you love them?
Would love to hear your views.
Thanks for reading and enjoy the rest of your day.
*purchased with my own money.