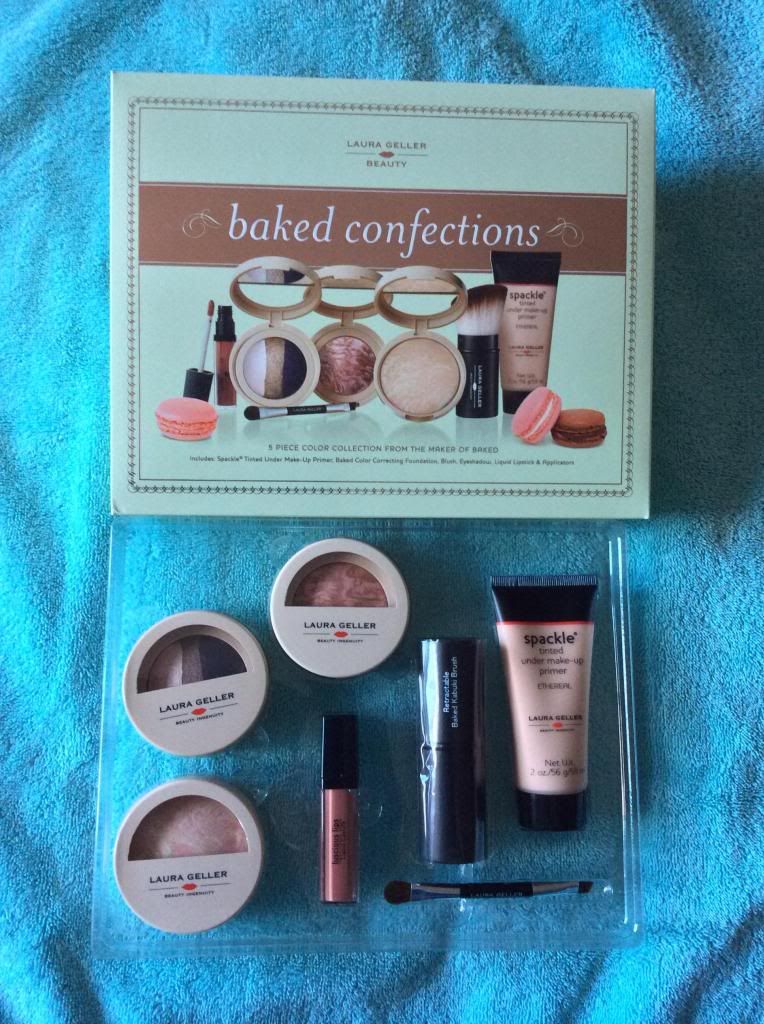 Hello,
Well I'm back again with my first impressions on the recent Laura Geller TSV from QVC.
It's called Baked Confections and the colour option I chose was Porcelain.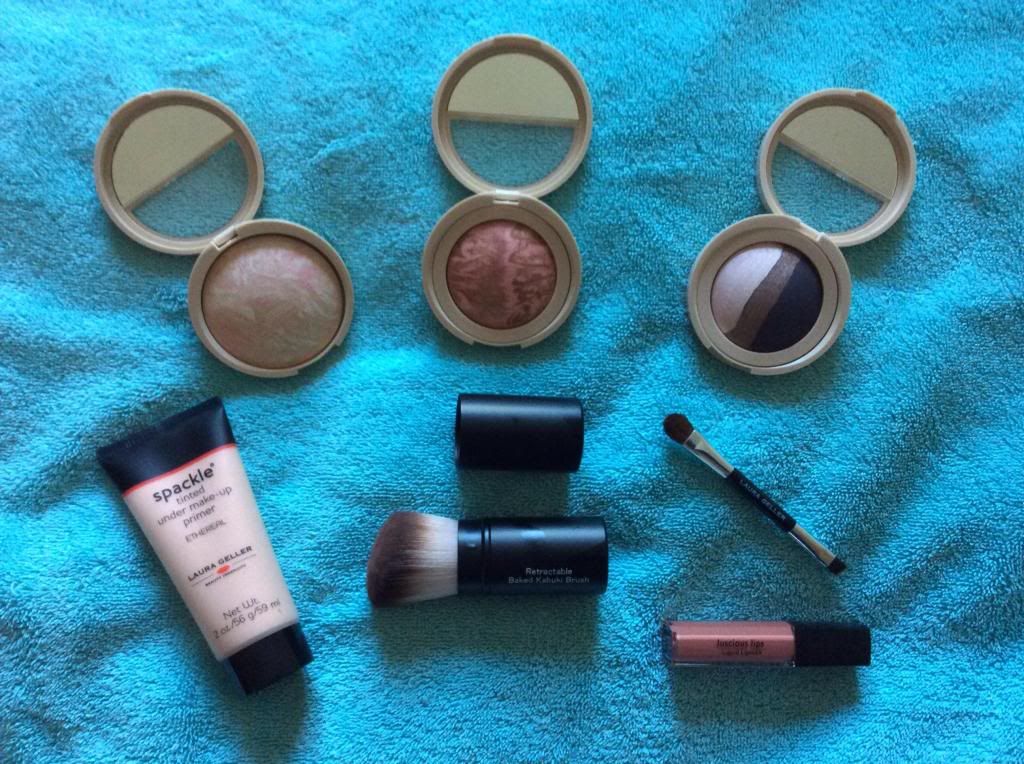 On unboxing I was a little surprised on the colour of the blusher and the lip colour because to me they appeared more pinky toned on the television but more on those later.
First I swatched the eyeshadows.
This trio is called Baked Eye Stripes in Plum Torte.
I loved the look of these in the palette, especially the pink shade. My favourite eyeshadow in the late 1980's was a Clinique shadow called "Seashell Pink". How I loved that eyeshadow and I always got compliments when I wore it. Imagine my despair when it was discontinued. My search then began for a replacement. It took years for me to find a similar shadow but eventually in the 2000's I found one in Virgin Vie called "Pink Opal" which I felt matched up. I was happy again. Then a few years later Virgin Vie folded and along with it my pale pink eyeshadow was no more. Fast forward to about 2 years ago and I was
perusing Superdrug and a little eyeshadow trio called Pink Sorbet caught my eye by MUA
Professional no less! It was £2.50 so I thought it was worth a try, although due to the price I didn't expect much to
be honest. Got it home and tried it and voila! I had found my replacement Seashell
Pink/Pink Opal. However this time I didn't want to get caught out so I rushed out and bought 2 spare palettes which I still have in my stash, although it hasn't been discontinued
yet.
When I saw the pink in this Laura Geller trio it reminded me a lot of that pink, so I was a happy bunny. The taupe middle shade also looked nice and a girl can never have enough neutrals. Then the plum shade also looked lovely and I don't have one that colour so again I was pleased.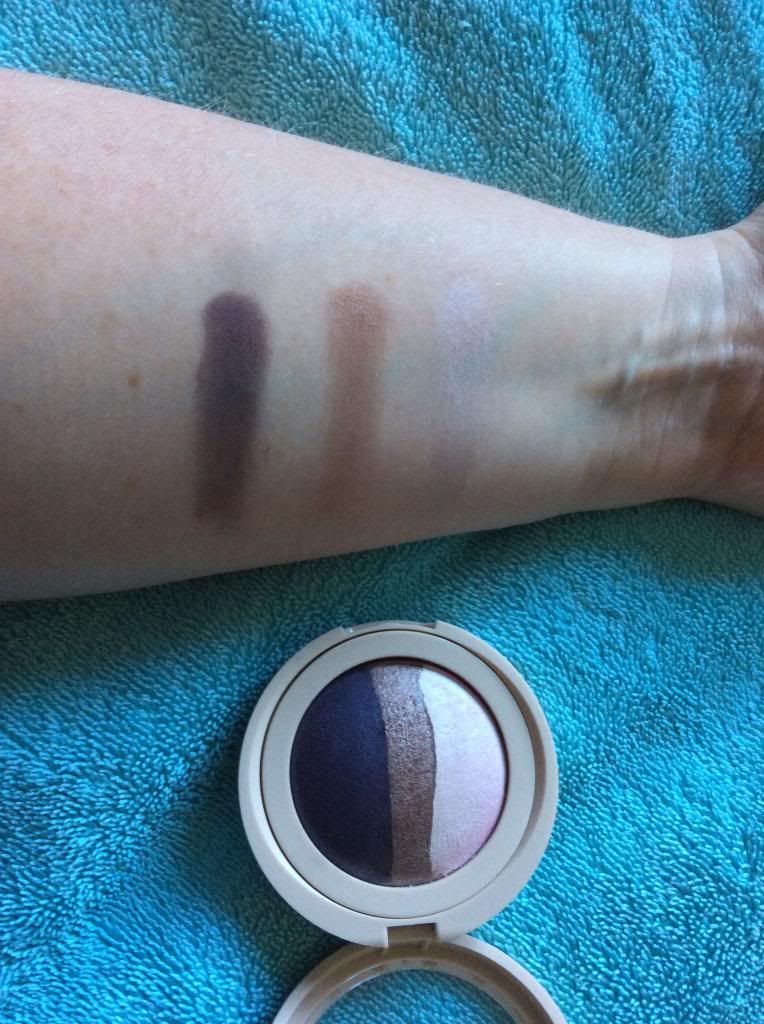 The swatches above are dry, straight from the pan. The pink is hard to see because of my pale skin but it is there! The plum colour was more of a dark damson on the skin, whereas it looked like it had more of a blue tint in the pan.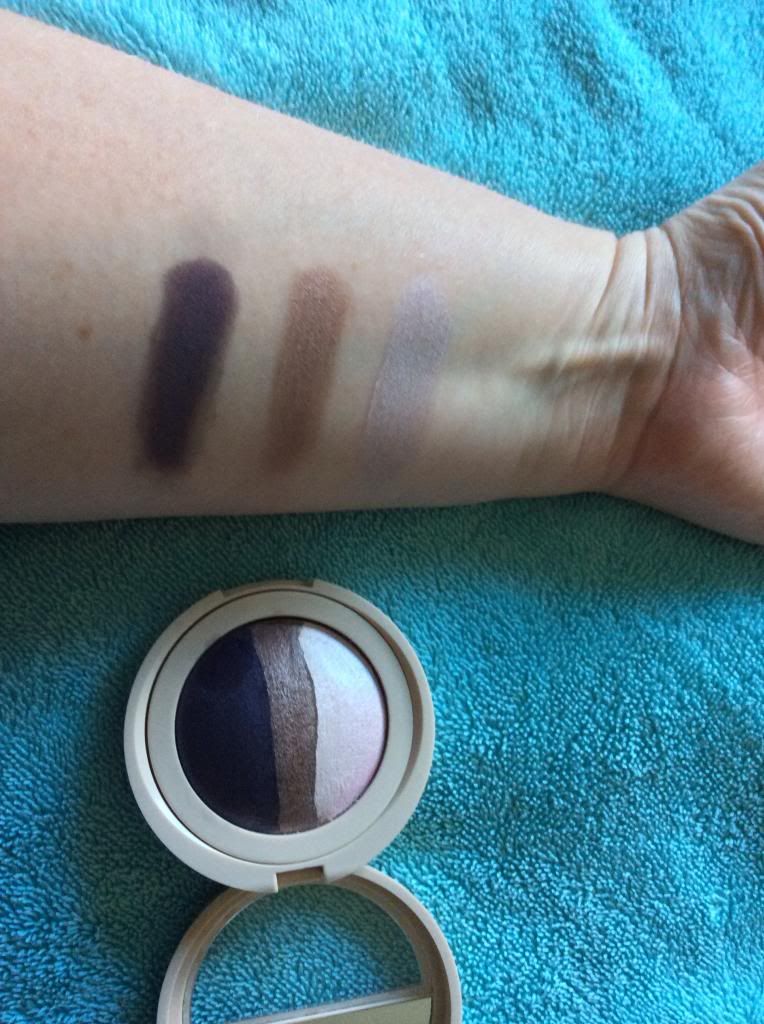 Now those familiar with Laura Geller's baked products will know that the beauty of them is that they can be used wet or dry. Above are swatches of them wet. As you can see the intensity of them is much stronger and I think I prefer the pink wet rather than dry.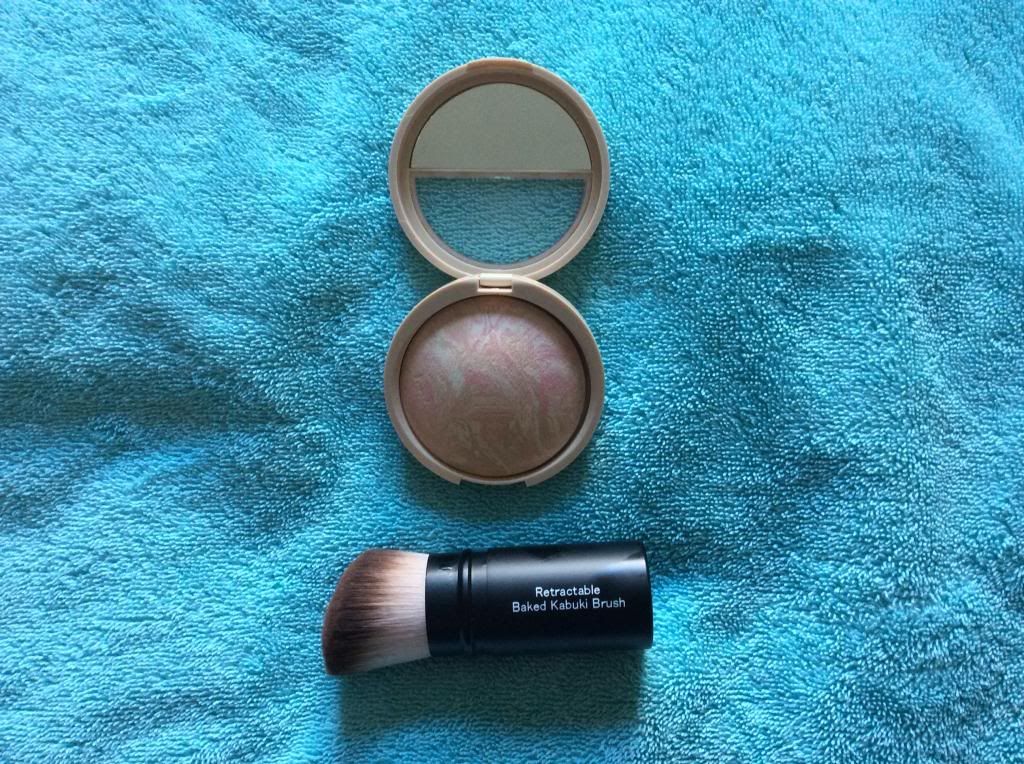 I have been using Laura Geller's Balance and Brighten for years and it is my "go to" foundation. It is so quick and easy to use. Sometimes I'll get out a liquid foundation, but they seem to feel so heavy on the skin that I always return to my beloved B&B. I used to
wear Fair as it was the lightest shade Laura did but it was always a tad too dark and yellow toned for me (blue eyed redhead) so when she added Porcelain, a pink toned B&B to the
range I was thrilled as it is perfect for me. The large angled kabuki is a new addition though,
so I am looking forward to trying it out. Sorry there is no swatch but it was too pale to show on my skin!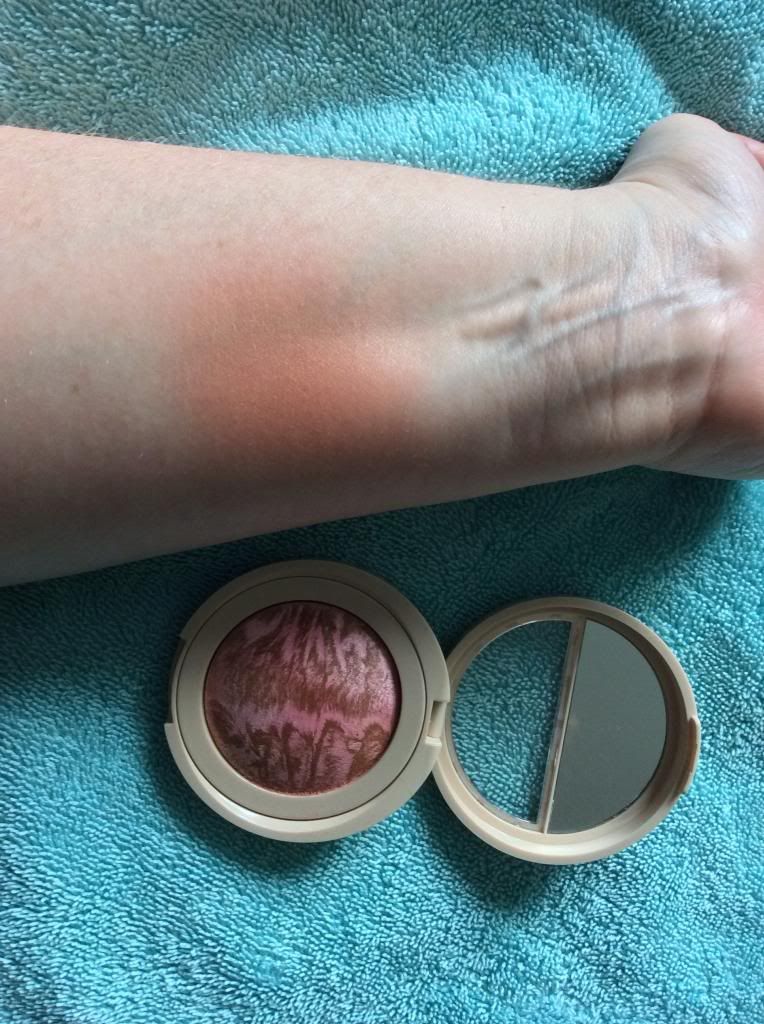 The baked blush is called Baked Brûlée Apple Custard. It looks lovely in the pan, swirls in pink and brown and has a slight shimmer to it. When I swatched it, I was disappointed that it was more brown than pink on my skin. I'm not sure if I will keep this because it is a bit too "gingery" for my colouring I think.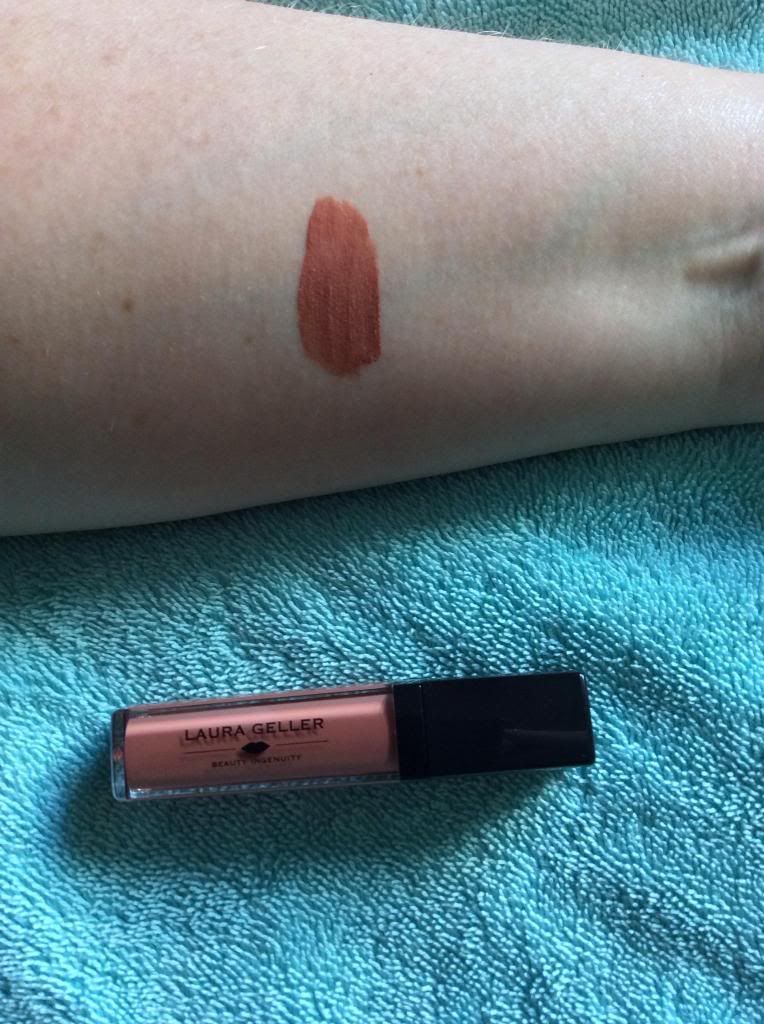 Finally we come to the lip colour, Lucious Lips Liquid Lipstick in Cherry Almond. This seemed smaller than all the previous Laura lip glosses I have purchased, but upon application I realised it is more of a lipstick than a gloss. Clue was in the name! I thought
this appeared more pink toned on television but it is in fact, despite the name, quite a neutral colour. It does look quite brown in the swatch but perhaps that is because it is against my pale skin. It is a matte texture and I do like it.
You may notice that there is no swatch of the Spackle Primer in Ethereal. I do currently have a Champagne Spackle open and it is the only Laura Geller product, so far, that I'm not keen on. Perhaps I should give it another try and, if I like it, try the Ethereal but at the moment I'm not planning on keeping the Spackle, hence no swatch. Sorry!
I haven't had chance to have a proper play with this set yet, but first impressions are all good and I
would give it 4 out of 5 stars.
It is currently out of stock on the QVC website but the
item number is
204156
Laura Geller 5 Piece Baked Confections.
Sorry if I've waffled on too much and that my photographs are not of the highest standard but hopefully with time I shall improve! Would love it if you took the time to comment.
Enjoy the rest of your day!
Laura-Geller-5-Piece-Baked-Confections-Colour-Collection