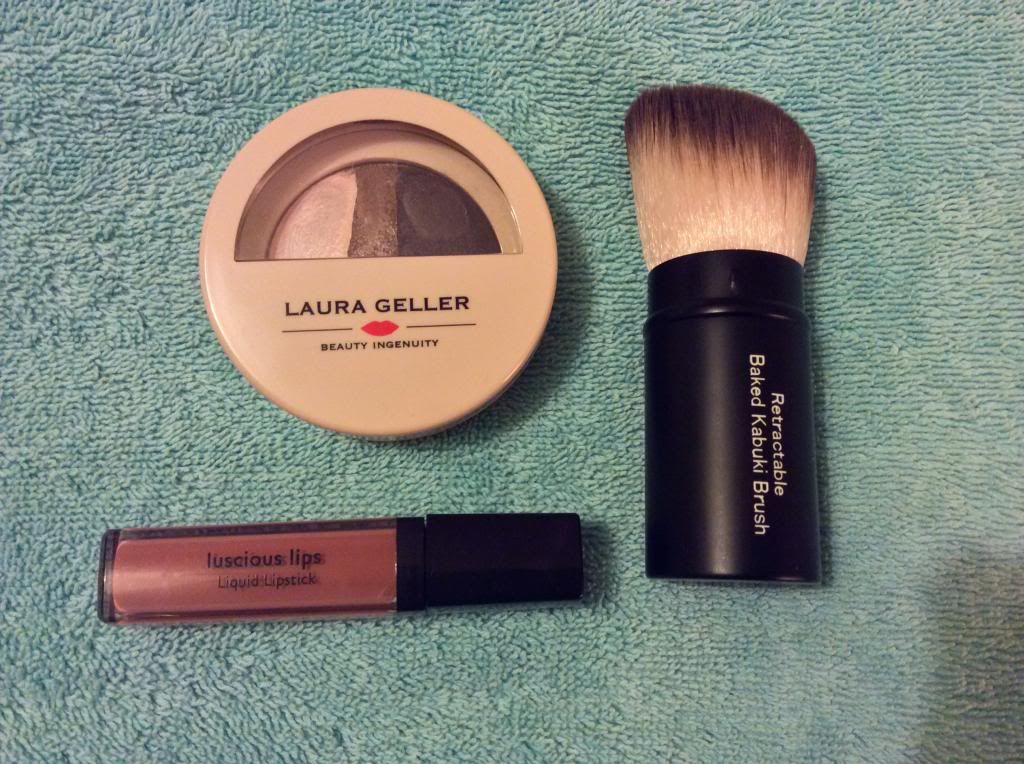 Hi,
I see I now have a few followers! Thank you so much for taking a chance on my new blog. I hope I won't disappoint.

Well I've finally had the chance to play with my new Laura Geller Baked Confections TSV and I love it so here is my review of the eyeshadows and lipstick.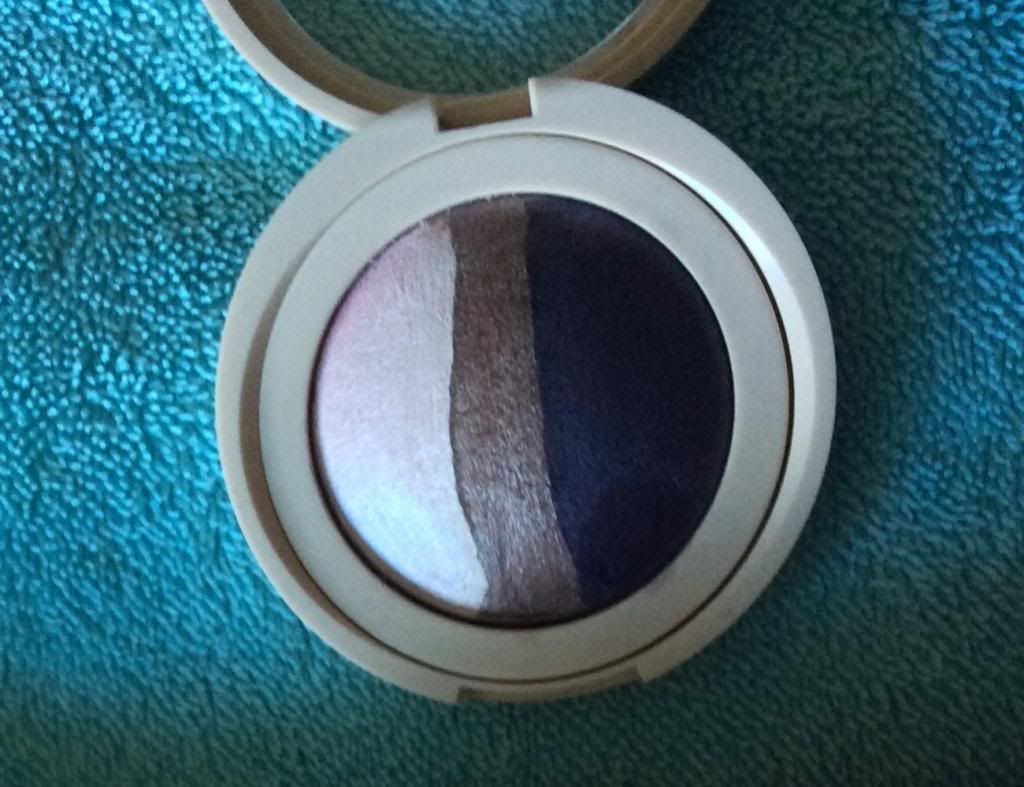 First up is the Baked Eye Stripes in Plum Torte. I found them very easy to apply with minimal fall out. On my first impressions post I said I thought that I would need to apply the
pink shade "wet" in order to get any depth of colour. I was wrong! I applied the pink colour
dry and it was easy to build up. I then used the taupe colour on my crease and the plum colour on the outer eyelid. All these were used dry, although I did wet the plum at the end to line the outer eye. They were all easy to blend.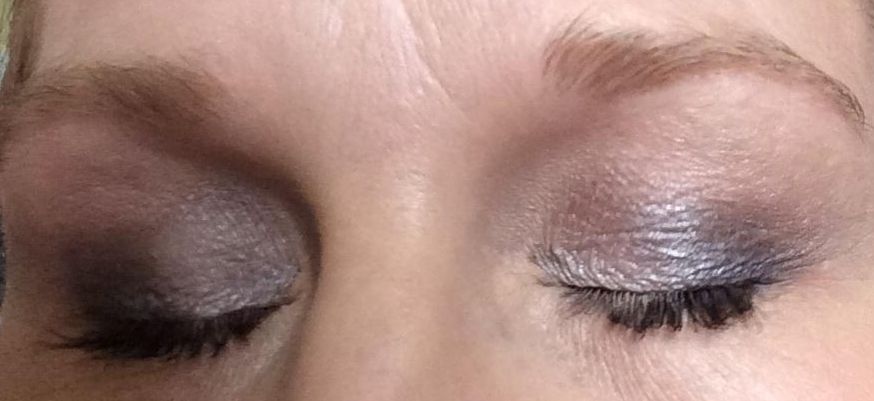 I wanted to see how long they lasted throughout the day without any touch ups. The picture below shows my eyelids after 9 hours. I did prep my eyes first with Urban Decay Primer
Potion. It did crease a little and has worn slightly on one eye but overall I was impressed by it's staying power, especially as it had my lines to contend with! It's a shame my under eye
concealer didn't hold up as well as this!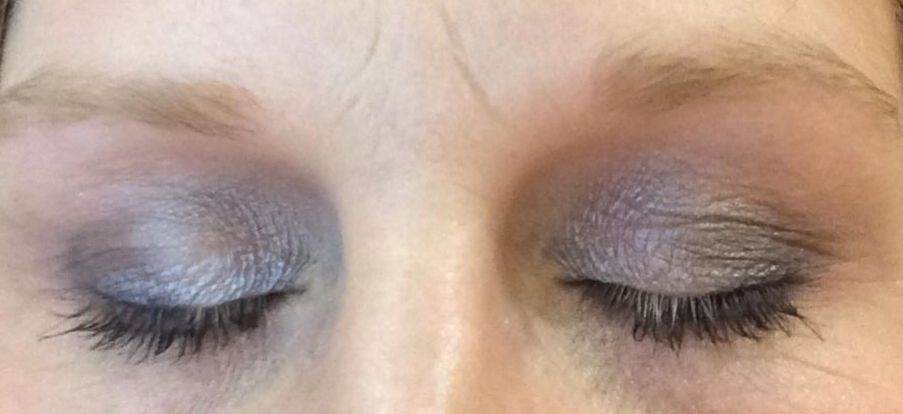 So I am pretty impressed with this eyeshadow. The beauty of baked shadows is that they
can be applied wet or dry but other than to line, I really can't see me needing any more
depth of colour than this so shall probably use them dry most of the time. Really pleased with these shadows and they make a nice change from neutral colours. Oh and the pink is
a great match for my much missed Clinique Seashell Pink shadow!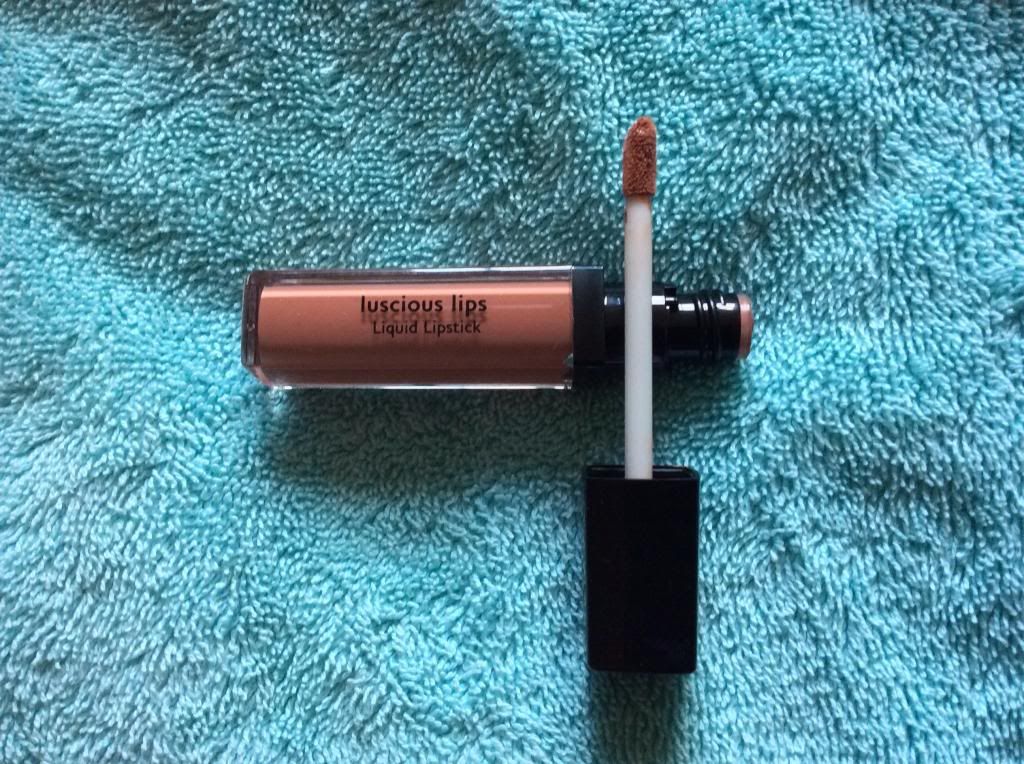 I have several Laura Geller lip glosses and lipsticks but this is the first Laura Geller liquid lipstick I have bought. Although the packaging is very much like a lip gloss, with the sponge wand applicator, there the similarities end.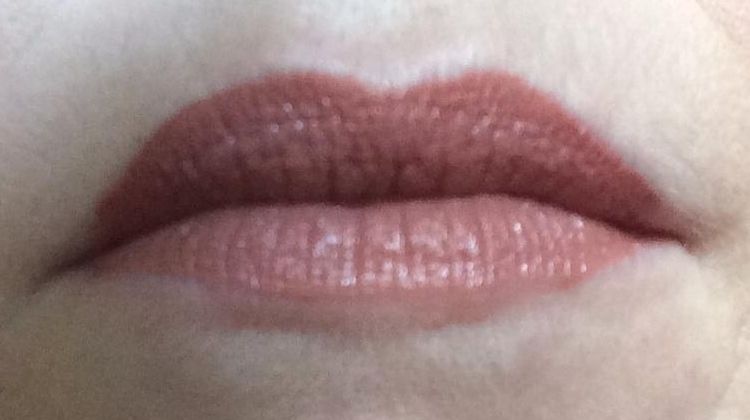 This has a creamy, matte consistency. It applies well but I did need a couple of coats. It looks very much like a lipstick once applied and is a lovely natural shade. It feels very nice on the lips and I think I will get a lot of wear out of this. After about 7 hours wear, there wasn't much colour left, just a slight outline on my top lip, although I don't think the camera picked it up very well in the picture below. However, Laura makes no claims that is a long lasting lipstick and it had to endure drinks and a lunch of chicken salad and usually I would re-apply after eating but didn't so I could do a proper review.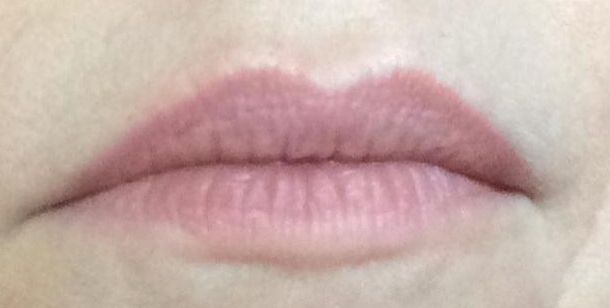 I am very happy with this lipstick and I didn't expect it to last through eating a meal, in fact in my opinion, many lip stains don't fair much better either!
There won't be a review for the baked blush or Spackle as I have decided not to keep them. I took another look at the baked blush and it looks lovely in the pan but it just doesn't suit my colouring. I have lots of Laura Geller blusher which I love, but this colour just isn't for me. As said in my previous post, Spackle just doesn't do it for me. Sorry Laura!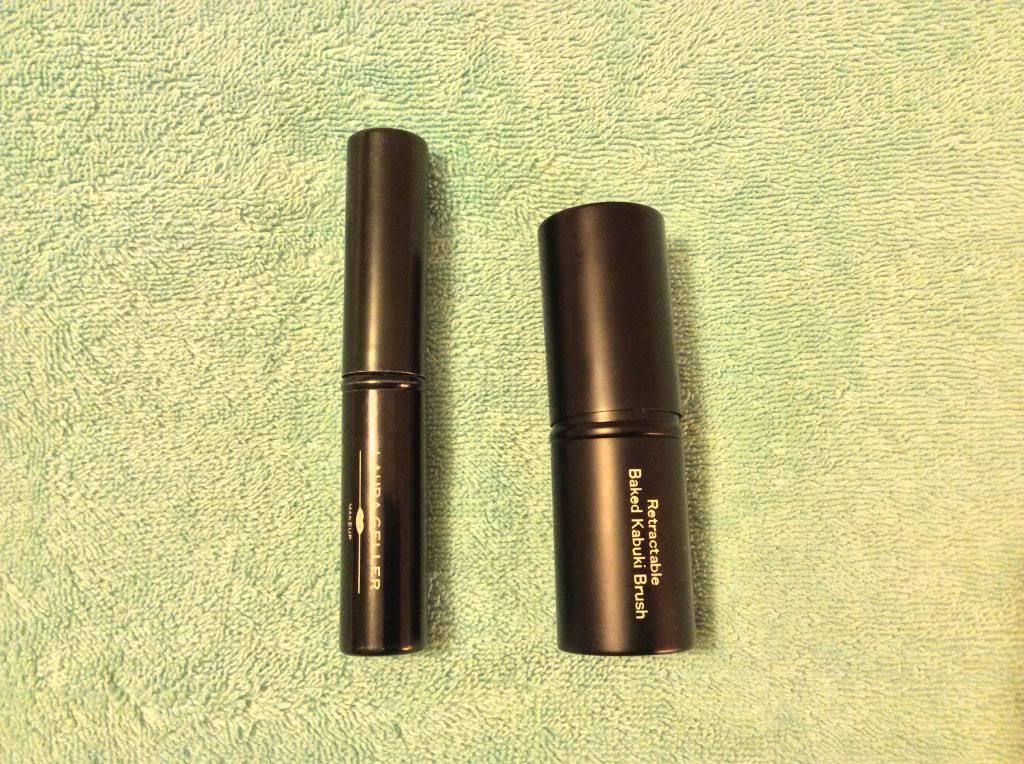 Finally, before I go I must give an honourable mention to the large angled kabuki brush that came in this kit. The photos below show the original kabuki brush on the left and the new large brush on the right.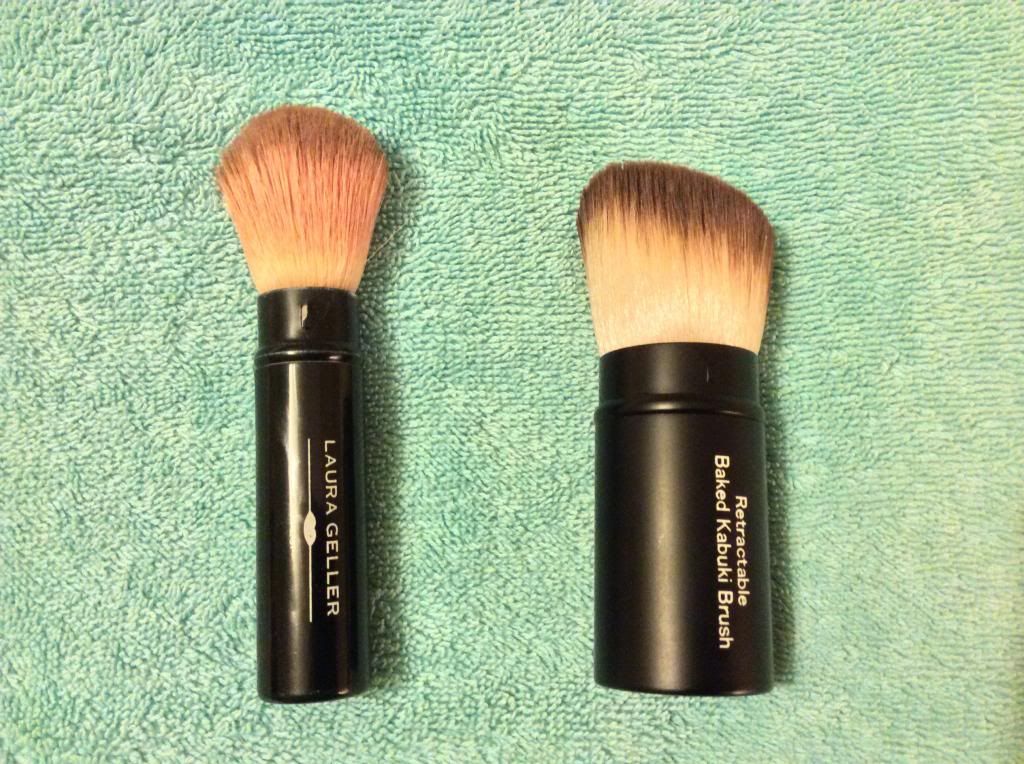 Please excuse the dirty brush, if I had known I was going to take a pics of it, I'd have washed it first! Slapped wrist - must wash brushes more often.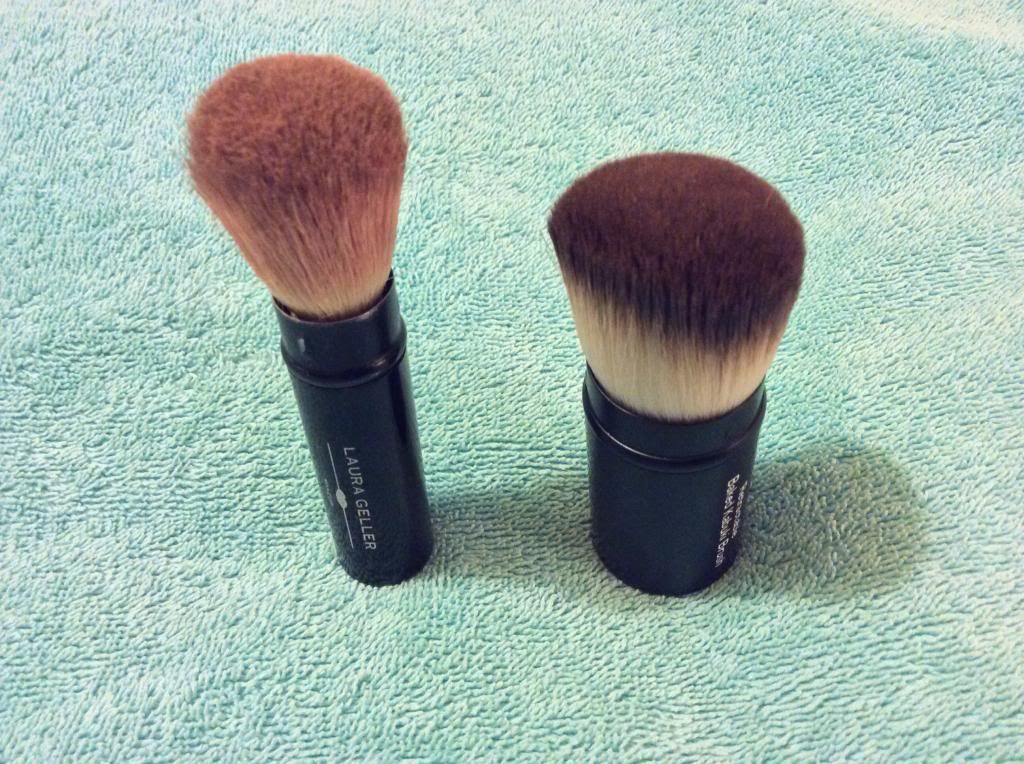 As you can see, the new brush is considerably larger than the old one so it cuts the time it takes to apply Balance and Brighten. I do like this brush A LOT! And it's retractable so great for travelling too. I love kabuki brushes.
So all in all, I am very pleased with this Laura Geller TSV.
Have you tried any of her products? Let me know what you think.